Buy Office Furniture Online
Looking to buy furniture to go with your new office?
Is old office furniture looking worn and you're considering giving it a face lift?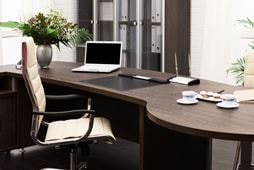 In today's post we're going to show you how to buy office furniture online and build business credit at the same time. If you want to know how to purchase new furniture for your office and get the most value from it as possible then this post is for you.
Now before you decide to purchase your new furniture, it might be a good idea to take inventory of all the items you need, the space that's available, and your budget so you can make the best decision possible for your company.

While I know it's an exciting time for you to shop for new office furniture, consider purchasing it on net credit terms so you can benefit by having that purchase show up on your company's business credit report.
So how do you buy office furniture online that builds business credit?
One company known as Office Furniture 2Go enables business owners like you to do just that. They are the first and only online based retailer that provides free shipping and a free lifetime warranty. Best of all they offer net 30 credit terms for creditworthy businesses.
More about credit terms in just a minute.
Office Furniture 2Go is a trusted and reputable online store with over 30 years of experience. Whether you're looking for office desks, office chairs, cabinets, tables, workstations, monitor stands, filing cabinets, or audio & visual equipment for your home office or brick and mortar location; this website has everything you need all in one place.
Their online ordering process is simple and you don't have to deal with a password to complete a transaction like so many other online stores require. There are no shipping costs at all and they accept all forms of payment. Best of all for those of you looking to build business credit you can open an account with net 30 day terms!
But before you request to open a net 30 account your business requires a good Dun & Bradstreet rating which they check as part of their decision making process. Ideally you should place an initial order prior to requesting credit terms.
What is a good Dun & Bradstreet rating?
At minimum your company should have a Paydex® score of 80+. To achieve this rating requires at least three positive trade lines reporting on your D&B credit file. Remember, the size of your credit limits, length of payment history, types of credit and credit utilization also play a factor.
What if I don't have a rating with Dun & Bradstreet?
You can still make purchases using other forms of payment with them but you may want to check out our business credit building system which shows you how to establish a rating with all three major business credit reporting agencies.
Once you get approved for a net 30 account with Office Furniture2Go you can immediately start making online purchases using your credit line. By using your credit line and paying your invoices on time you establish a positive payment history with this vendor.
With positive and ongoing purchase activity your company positions itself for potential credit limit increases and even more favorable credit terms with Office Furniture 2Go. Of course that decision is at their discretion.
Your payment activity will help build your business credit file with D&B since it will be another reporting trade line. In addition, your Office Furniture 2Go relationship becomes a trade reference that you can use on future credit applications as well.
Choosing the right furniture is just as important as choosing the right type of office for your business. It affects your work environment, productivity and attracts prospective employees. Whether you run your business from home or a commercial location, your office is important to the success of your company. So before you buy any furniture take a look at Office Furniture 2Go, you'll be impressed with the low prices they have on quality furniture.
Looking to establish your credit rating with Dun & Bradstreet, Equifax & Experian Business? Become a member of my Business Credit Insiders Circle and gain access to a proven step-by-step business credit building system. A system that provides you access to vendor lines of credit, fleet cards, business credit cards with and without a PG, funding sources and lenders that report to all the major business credit bureaus. Submit your name and email below for details and receive a free business credit building audio seminar ($497 value) =>

To Your Success in Business and in Life!
Did This Blog Help You? If so, I would greatly appreciate if you like and shared this on Facebook and Twitter.
About the author
Marco Carbajo is a business credit expert, author, speaker, and founder of the Business Credit Insiders Circle. He is a business credit blogger for Dun and Bradstreet Credibility Corp, the SBA.gov Community, Business.com, About.com and All Business.com. His articles and blog; Business Credit Blogger.com, have been featured in 'Fox Small Business','American Express Small Business', 'Business Week', 'The Washington Post', 'The New York Times', 'The San Francisco Tribune','Alltop', and 'Entrepreneur Connect'.