Virtual Office Address
During the initial stages of the business credit building process I'm sure you have heard about the importance of setting up a commercial office location. A physical location that is zoned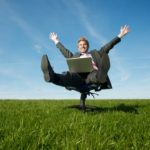 for business speaks volumes for your company and its operation.
If you decide to use your home address for your company's business address keep in mind that some lenders may not extend credit to a "home based" business. However, you still have many credit opportunities with a home based business so don't let that stop you.

If you do decide to use your home address make sure you designate a specific area in your home where you can run your business in order to allow for the proper home office tax deductions.
But, if you're adamant about having a commercial address but renting office space is out of the question then you may want to consider a virtual office address.
One company, Opus Virtual Offices offers a turnkey corporate image with all the tools you need to not only run a business but meet the business credit building requirements.
For a flat monthly fee you get a business phone number, a live receptionist answering phone calls, a corporate business address for all your mailing and packages, personalized voice mail box which converts to email, and even a fax number that will convert to email.
It is an excellent solution for start-ups and small businesses looking to keep costs low while gaining all the resources of a professional corporate image.
An Opus Virtual Office includes the following:
Dedicated business phone number
Professional live receptionist answering calls in your business name
Corporate mailing address
Business fax number
Fax forwarding to email
Voice mail forwarding to email
2 corporate voice mail boxes
Call forwarding to up to 4 different phone numbers
While there are other companies offering similar services that can accommodate your business, I believe Opus offers the most cost effective solution for startups and small businesses. For only $99 a month you can establish a corporate image with all the resources already in place.
This is just one of the steps required in the business credit building process. Keep in mind if you decide to set up a virtual office make sure that all of the information you supply to Opus is identical to the information you have on your corporate documents. This includes things like the spelling of your company name to the description of your business operation.
Remember, there should be no differences in your company information across all business documents, registrations, and listings.
Give your business the professional image you require to get ahead of the competition while at the same time meet the compliance demands creditors, suppliers, and lenders expect your company to adhere to.
Looking to build your business credit? Become a member of my Business Credit Insiders Circle and gain access to a proven step-by-step business credit building system. A system that provides you access to vendor lines of credit, fleet cards, business credit cards with and without a PG, funding sources and lenders that report to all the major business credit bureaus. Submit your name and email below for details and receive a free business credit building audio seminar ($597 value) =>

Did This Blog Help You? If so, I would greatly appreciate if you like and shared this on Facebook and Twitter.
About the author
Marco Carbajo is a business credit expert, author, speaker, and founder of the Business Credit Insiders Circle. He is a business credit blogger for Dun and Bradstreet Credibility Corp, the SBA.gov Community, About.com and All Business.com. His articles and blog; Business Credit Blogger.com, have been featured in 'Fox Small Business','American Express Small Business', 'Business Week', 'The Washington Post', 'The New York Times', 'The San Francisco Tribune','Alltop', and 'Entrepreneur Connect'.