Very Important Business Credit Tools
The credit climate for businesses has changed drastically since the financial system crash of 2008. Today, most banks, business credit card issuers, and major lenders are conducting business credit checks and sharing data with the business credit reporting agencies.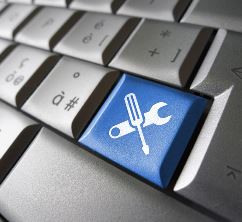 Even FICO® has its own credit scoring model for lenders to assess the risk of small business credit applicants known as the FICO® Small Business Scoring Service (SBSS).  This means that you as a business owner must pay serious attention to establishing the creditworthiness of your business.
Here are five essential business credit tools that all small business owners should have readily available in their arsenal of financial tools.

1) Business Credit Building Platform – Before applying for credit in the name of your business it's crucial that your company is considered what we call in the industry 'credit ready'. The challenge that many small business owners face is that they don't know what exact requirements need to be met in order to meet those lending standards. Secondly, finding the credit sources that report to the business credit agencies and what it takes to get approved is another obstacle preventing small business owners from getting the credit they deserve.
With our Business Credit Building platform you gain access to a proven step-by-step system that will help you with all phases of the business credit building process. This tool is all you need to start you on the path to building a creditworthy company. You also gain access to all the vendors, banks, fleet cards, business credit cards, and funding programs so you can build business credit and maintain strong business credit scores.
2) Business Credit Alert Notifications – Information about your company may change on a regular basis – information banks, suppliers, and other companies can easily access. In order to be immediately notified of any changes happening to your scores or ratings without your knowledge requires the use of a tracking tool with alert notifications.
You should be the first to know when your business credit score changes or how many times others request access to your company's credit information. To stay proactive you should consider registering for a free CreditSignal® account. When you register, you'll start to receive alerts whenever there are changes to your D&B's credit scores and anytime your company's credit file has been pulled.
3) Business Credit Monitoring – Companies are fluid and constantly changing; a business that may seem creditworthy today can be viewed as a bad risk to a lender or bank tomorrow.  While a single business credit report is just a snapshot in time, monitoring your reports on a regular basis provides the ability for you to react fast to any changes as they happen.
So in order to better control your business credit profiles, how it will be seen and in turn how to improve it; business credit monitoring is another invaluable tool to have. You can monitor your business credit file with D&B®, Experian Business & Equifax Small Business through their monitoring programs offered on each of their websites.
4) Credit Score & Report Analysis – The fact is lenders, banks, and credit card issuers  may use personal credit checks as part of their decision making process when your company applies for credit or a loan. Having access to review all three personal FICO® scores and reports with Equifax, Transunion and Experian is an essential tool every business owner should have readily available.
Take the time to fix any credit issues and ensure your personal credit is strong before applying for credit by using an analysis tool such as CreditCheck® Total. Many funding programs such as our Unsecured Business Finance (UBF) program require you to have a CreditCheck® Total account in order to pre-qualify for the best high limit personal and business credit cards.
5) Business Credit Management – It's essential to keep your company's information up-to-date and complete as it is listed with the business credit reporting agencies. By ensuring these details are accurate and complete, you can improve your company's credibility with banks, suppliers, and other companies that do business with you. The good news is there are several free tools available that allow you to better manage your company's credit profiles.
For example, iUpdate provides an easy way to manage your Dun & Bradstreet information on your business.  iUpdate is an internet-based service that enables business owners to view, print, and submit updates to their Dun & Bradstreet Information Report. It's free to register and once you verify business ownership you can log in to view your report.
Now updating your information with Experian Business and Equifax Small Business is also an easy process which you can do right online. Be sure to bookmark each of these business credit management tools so you can have the correct information on file with each agency.
Each of these business credit tools serves an important purpose for your business. With today's every changing credit climate it's vital for small business owners to be as proactive, prepared and protected as possible when it comes to business credit.
Ready to build your business credit? Become a member of my Business Credit Insiders Circle and gain access to a proven step-by-step business credit building system. A system that provides you access to vendor lines of credit, fleet cards, business credit cards with and without a PG, funding sources and lenders that report to all the major business credit bureaus. Submit your name and email below for details and receive a free business credit building audio seminar ($597 value) =>

To Your Success In Business and in Life!
Did This Blog Help You? If so, I would greatly appreciate if you like and shared this on Facebook and Twitter.
About the author
Marco Carbajo is a business credit expert, author, speaker, and founder of the Business Credit Insiders Circle. He is a business credit blogger for Dun and Bradstreet Credibility Corp, the SBA.gov Community, Business.com, About.com and All Business.com. His articles and blog; Business Credit Blogger.com,  have been featured in 'Fox Small Business','American Express Small Business', 'Business Week', 'The Washington Post', 'The New York Times', 'The San Francisco Tribune','Alltop', and 'Entrepreneur Connect'.