Why File a DBA?
Have you wondered why a business files a DBA?
Do you know if your business needs to file one?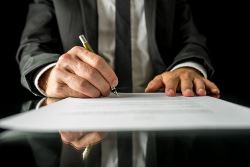 In this post I'll be breaking down the DBA also known as the Fictitious Business Name or Assumed Business Name to see if your business actually needs one.
First things first, let's cover what a DBA is and what it's not. A DBA is an abbreviation for "doing business as." Filing for a DBA is necessary if your business operates under a name other than its legal name.

What a DBA does not do is give you exclusive rights to your business name nor does it offer any type of liability protection. Anyone can register any DBA and in some cases you may find that another business is using the same or similar DBA name.
Here are several key reasons why you would file a DBA:
You're a sole proprietor – If you operate your business as a sole proprietor, then filing a DBA would be necessary if your business name is different than your own personal name.
Opening a bank account – Filing a DBA is required if you're a sole proprietorship and you want to open a business bank account and collect payments using a business name other than your personal name.
Using a different name other than your corporate name – If you decide to use a business name that's different than the name filed with your articles of incorporation or LLC then filing a DBA is necessary.
Name recognition – Many sole proprietors prefer to use a business name other than their personal name so they can build their own brand. By filing a DBA a sole proprietor can use their business name to establish name recognition, use it in marketing materials, and in collecting payments.
It's simple and least expensive – As a sole proprietor, filing a DBA is the cheapest way to be able to use a business name without having to form an LLC or corporation.
Compliance – If you operate as an LLC or corporation, filing for DBAs will enable you to operate under multiple businesses without having to form a new entity for every business. For example, you can operate a company called XYZ Enterprises, LLC which has several DBAs that fall under its operation such as John Smith Consulting, John Smith Web Development, etc.
All the rules, requirements, forms and fees for filing a DBA are different in each state and county. It's important to note that in several states once you file for a DBA you may be required to publish your DBA statement in a local newspaper, and then file proof of its publication with the proper government office.
In a nutshell, if you want your corporation or LLC to operate under a different name, you must file a DBA. For other structures such as a sole proprietorship or partnership, the legal name of the business is the personal name of the business owner(s). So if you want to use a business name other than your personal name you'll need to file a DBA.
Until next time.
Ready to build your business credit? Become a member of my Business Credit Insiders Circle and gain access to a proven step-by-step business credit building system. A system that provides you access to vendor lines of credit, fleet cards, business credit cards with and without a PG, funding sources and lenders that report to all the major business credit bureaus. Submit your name and email below for details and receive a free business credit building audio seminar ($597 value) =>
To Your Success In Business and in Life!
Did This Blog Help You? If so, I would greatly appreciate if you like and shared this on Facebook and Twitter.
About the author
Marco Carbajo is a business credit expert, author, speaker, and founder of the Business Credit Insiders Circle. He is a business credit blogger for Dun and Bradstreet Credibility Corp, the SBA.gov Community, About.com and All Business.com. His articles and blog; Business Credit Blogger.com,  have been featured in 'Fox Small Business','American Express Small Business', 'Business Week', 'The Washington Post', 'The New York Times', 'The San Francisco Tribune','Alltop', and 'Entrepreneur Connect'.