Unsecured Business Credit Card
Planning to apply for a business credit card?
Want to know what type of credit card is best for you and your business?
In this post I'm not going to cover the typical things you would expect such as functions, features and benefits, but instead focus on something I believe to be much more important.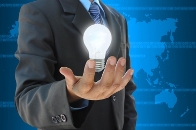 You see in today's financial landscape an unsecured business credit card has become one of the easiest sources of credit for business owners to obtain.
Let's face it going the traditional route of obtaining a line of credit from a bank or business loan is like pulling teeth. Not only do you need stellar credit but also need to supply financials, personal and business tax returns, etc.

Now you're probably wondering what can be more important than getting all those bonus miles, cash back rewards, and all the other perks that entice you to apply.
Well, I'm glad you asked.
Let me start by asking you two serious questions.
What impact will it have on your personal FICO® Scores and your ability to acquire personal financing if all of your business credit card debts show up on your personal credit reports?
What are you doing to establish and build the creditworthiness of your business?
These two questions are so important for business owners to ask themselves before applying for a company credit card.
Let's review the three types of unsecured business credit cards every business owner should know.
Consumer Credit Reporting cards – The majority of all business credit cards you see being advertised all over the internet report solely to a business owner's personal credit reports. Remember, just because a business credit card has your company's name on it doesn't mean it's a true business credit card. In my opinion these cards are the worst type of cards to acquire as a business owner because your company's revolving unsecured debts show up only on your personal credit and it does nothing to build your business credit reports.
Consumer and Business Credit Reporting cards – Some business credit cards such as Capital One's Spark℠ Classic report to both consumer and business credit reporting agencies. While these cards are not my first pick they at least enable a business owner to build the company's credit reports.
Business Credit Reporting cards – I'm sure you would agree that obtaining an unsecured business credit card that reports solely to your company's business credit reports is ideal. These cards are the best cards to acquire since a business owner protects his personal credit while building the creditworthiness of the business.
Well, there you have it. The three types of unsecured business credit cards you definitely should and now know about.
So how can you acquire high limit business credit reporting cards?
If you are read to apply for an unsecured business credit card that builds your business credit submit your information below and a funding specialist will contact you within 24 hours. Plus receive my FREE business credit seminar audio and newsletter ($597 value)=>

To Your Success In Business and in Life!
Did This Blog Help You? If so, I would greatly appreciate if you like and shared this on Facebook.
About the author
Marco Carbajo is a business credit expert, author, speaker, and founder of the Business Credit Insiders Circle. He is a business credit blogger for Dun and Bradstreet Credibility Corp, the SBA.gov Community, and All Business.com .His articles and blog; Business Credit Blogger.com, have been featured in 'American Express Small Business', 'Business Week', 'The Washington Post', 'The San Francisco Tribune','Alltop', and 'Entrepreneur Connect'.
Image courtesy of FreeDigitalPhotos.net