Small Business Credit Cards
Tired of business credit cards reporting your company's revolving credit card debt on your personal credit reports?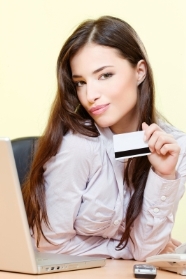 Want to establish your company's creditworthiness while protecting your personal credit?
If you're looking for the best small business credit cards then you've come to the right place.
Now I should warn you this is not your typical post where I'll cover all the perks, rewards, introductory offers, etc.  You can find enough of those types of reviews and articles all over the internet.
What I'm talking about is far more important; protecting your personal credit.

The best type of small business credit cards that business owners should be using are ones that report solely to the business credit reporting agencies.
These types of cards are the best because they do two powerful things.
Protect a business owner's personal credit
Builds the creditworthiness of the business
Since a business can be set up to legally separate itself from an individual or owner, such as a limited liability company (LLC) or a corporation, a business should also establish its own creditworthiness completely separate from that of its owner(s) as well.
Unfortunately, the majority of all small business credit cards you'll find on the internet contradict this because they report to a business owner's personal credit rather than the company's credit reports.

I'm sure you know the major consumer credit reporting agencies; Equifax, Transunion and Experian.
But do you know the three major credit reporting agencies for businesses?
It's Corporate Experian, Small Business Equifax
and Dun and Bradstreet.
In order to establish a creditworthy business you will need to apply for small business credit cards that report to one or more of these agencies.
In order to pre-qualify a business owner needs to meet the following criteria:
680+ FICO® Score
No derogatory credit marks in the past 6 months
No personal bankruptcies reporting
No excessive inquiries
A minimum of one credit card with a $2k limit reporting
If your FICO® Scores are below 680 take advantage of my credit restoration service so you can improve your scores and apply for the best small business credit cards.
Tip: Other credit sources such as secured business credit cards, fleet cards, trade credit, equipment financing etc. should be used for building credit diversity and can be found in my step-by-step business credit building system.
Ready to apply for small business credit cards that build your business credit? Submit your information below and a funding specialist will contact you within 24 hours. Plus receive my FREE business credit seminar audio ($597 value) =>

To Your Success In Business and in Life!
Did This Blog Help You? If so, I would greatly appreciate if you like and shared this on Facebook.
About the author
Marco Carbajo is a business credit expert, author, speaker, and founder of the Business Credit Insiders Circle. He is a business credit blogger for Dun and Bradstreet Credibility Corp, the SBA.gov Community, and All Business.com .His articles and blog; Business Credit Blogger.com,  have been featured in 'American Express Small Business', 'Business Week', 'The Washington Post', 'The San Francisco Tribune', 'Alltop', and 'Entrepreneur Connect'.
Image courtesy of FreeDigitalPhotos.net