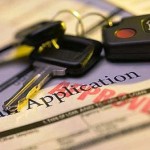 Establish Business Credit with GMAC
While there are many reasons to establish business credit many small business owners overlook the advantages of financing their autos with corporate credit. The key is keeping all your business related expenses and obligations separate from your personal credit files.
This includes minimizing the use of personal credit checks and personal guarantees to get business credit.  Are your business debts reporting on your personal credit files? Does your auto loan or lease for your company report to your personal credit files?
The good news is there are companies like GMAC that understand the importance of keeping personal obligations separate from your business debts.  More importantly one program it offers reports your payments to your business credit report and not your personal credit files.
Third Party Guaranty by GMAC
This program was specifically designed for business owners to keep their automotive financing separate from personal credit. It even allows you to keep your personal name off of the vehicle contract and title.  Now that's what I'm talking about!
Now you may have to provide the additional financial backing that GMAC requires like a personal guaranty if your established corporate credit cannot support the loan or lease. 
Here's a quick rundown of the benefits:
Build credit in your business name only.
Your vehicle purchase or lease will not be reported on your personal credit reports, unless your business defaults.
Added protection from liability, since your name remains off of the vehicle's title and contract.
Personal privacy since you are only personally contacted in the event of default
Now to take it a step further suppose your business needs to purchase multiple vehicles. GMAC also has a program called the GMAC Commercial Line of Credit.
The best part of this program is your business can provide the financial data it needs to establish a business line of credit with GMAC one time rather than provide the same information for each vehicle purchase. This is extremely convenient especially if you have to purchase or lease multiple vehicles at different times and at different dealerships.
Think about the positive impact this will have on your personal debt-to-income ratios if suddenly your future auto loans or leases stop reporting on your personal credit reports and now report to the business credit bureaus.
There are also several other major automotive companies like GMAC that offer vehicle financing programs designed to establish business credit while protecting your personal credit files. We offer these and many other credit sources to members of my Business Credit Insiders Circle.
Take advantage of all the benefits that major corporations have been utilizing for years.
To your business credit success!
Business Credit Resources
To access business credit insider secrets, corporate fleet suppliers, premium vendors, leasing companies, business credit cards, and lenders that report to all the major business credit bureaus become a member of my Business Credit Insiders Circle. Submit your name and email below for details and receive a free audio seminar ($597 value) =>
Marco Carbajo is a business credit specialist, author, speaker, and founder of the Business Credit Insiders Circle. He is a weekly columnist for Dun & Bradstreet Small Business Solutions, a business credit blogger for All Business & American Express Small Business and author of "Eight Steps to Ultimate Business Credit" and "How to Build Business Credit with No Personal Guarantee." His articles and blogs have also been featured in Business Week, The Washington Post, The San Francisco Tribune, Scotsman Guide, Alltop, Entrepreneur Connect, and Active Rain.