Unsecured Business Line of Credit No Doc
How do you get an unsecured business line of credit with no documentation?
In today's post we'll reveal three fast and easy sources of credit lines for your business that you can apply for with no documentation. Whether you're a startup or existing business, you may be able to qualify for one, two, or all three of these credit lines.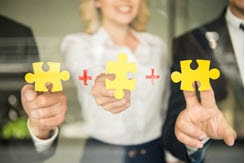 What is an unsecured business line of credit with no doc? A no doc business line of credit is a line of credit which requires no income documentation. To qualify you won't be required to furnish financials, tax returns, etc. This is also known as stated income where the bank or lender does not verify income by looking at documentation. Instead, you are simply asked to state your income, and it's taken at your word.
Typically, banks offer no doc or stated income business credit lines for self-employed individuals or borrowers who may have difficulty documenting their income.
This is a fast, easy and truly hassle-free way to get access to a line of credit for your business without all the red tape and excessive documentation.
What is a business line of credit?
Simply put it's a revolving source of funds. You get access to a fixed amount of capital (your credit limit), which can be used anytime you need it. Think of it as having a cash/credit on demand tool for your business.
You can borrow against your credit line whenever you need it, repay it, and use it again. Best of all since it's unsecured you don't supply any collateral.