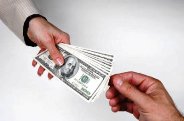 Bid for Government Contracts
If you are a sole proprietor, corporation or partnership and plan to do business with the federal government you will need to be registered in CCR before being awarded a contract.
There's no cost to register and you can update your company information at any time and in one location via a CCR log in.
Keep in mind all federal government agencies can retrieve your company data from this one central location making the process seamless and hassle free.
So what is CCR?
The Central Contractor Registration (CCR) is a government-wide registry and its sole purpose is to collect, validate, store and distribute information.  
CCR shares the collected data with federal agencies' finance offices, federal government procurement and electronic business systems.
First you should check to see if your company is already registered by going to the CCR web site and clicking on the 'CCR Search' tab.
You will need to supply your company's DUNs number so if you don't have one than I can guarantee that your company is not listed because a DUNs number is required to register in CCR.
CCR Registration
Here is checklist of required information in order to register in CCR:
Employer Identification Number (EIN) or Taxpayer Identification Number (TIN)
DUNs Number –Your business can obtain a DUNs number within 24 hrs absolutely free through the D&B D-U-N-S Request Service for US Federal Government Contractors and Grantees.
Point of Contact (CCR POC) – Designate someone in your company who will be directly responsible for maintaining and updating the company CCR profile.
Electronic Business Point of Contact (EB POC) – This will be the person in charge of deciding which employees of your company may represent your company to federal business systems.
Marketing Partner ID (MPIN) – This will be a special password that you will have to designate during the registration process.
It's extremely important that all the detailed information about your company matches exactly in each of the DNB, IRS and CCR databases. Any mismatched data can result in a delay of your CCR registration.
Paying attention to details not only impacts your ability to get registered with CCR but also plays a vital role in the business credit building process too.
My suggestion is to create a document that contains all your company details in order so anytime you have to complete a registration or credit application you use the document for reference.
That way you can be certain that every time you submit your company information it's a 100% match across all data bases.
For additional information about CCR registration you can download its free CCR User's Guide as well as view step-by-step screen shots of the entire CCR Registration process.
Ready to get listed with the major business credit bureaus? Become a member of my Business Credit Insiders Circle and gain access to a proven step-by-step business credit building system. A system that provides you access to vendor lines of credit, fleet cards, business credit cards with and without a PG, funding sources and lenders that report to all the major business credit bureaus. Submit your name and email below for details and receive a free audio seminar ($597 value) =>

Marco Carbajo is a business credit expert, author, speaker, and founder of the Business Credit Insiders Circle. A business credit membership helping business owners build small business credit. He is a business credit blogger for AllBusiness.com, a subsidiary of Dun and Bradstreet and author of "Eight Steps to Ultimate Business Credit" and "How to Build Business Credit with No Personal Guarantee." His articles and blogs have also been featured in American Express Small Business, Business Week, The Washington Post, The San Francisco Tribune, Scotsman Guide, Alltop, Entrepreneur Connect, and Active Rain.