Business Email Account
We all know that email is simply another tool used for exchanging information. But when it comes to business it plays a much greater role then many people seem to realize.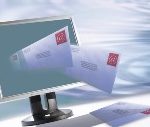 Unfortunately, the most common mistake made by business owners is using one of the many free email services on the internet like Hotmail or Yahoo to obtain their business email account.
While a free email services does serve a purpose it can give a bad impression to a potential customer or even hurt your chances for obtaining credit since some creditors require a dedicated business email account.
Click to continue …