Business Email Account
We all know that email is simply another tool used for exchanging information. But when it comes to business it plays a much greater role then many people seem to realize.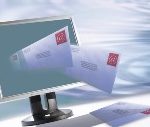 Unfortunately, the most common mistake made by business owners is using one of the many free email services on the internet like Hotmail or Yahoo to obtain their business email account.
While a free email services does serve a purpose it can give a bad impression to a potential customer or even hurt your chances for obtaining credit since some creditors require a dedicated business email account.

You can help your business by obtaining a real business email account that clearly shows that your company has a personalized domain name.
The email address you set up should have @yourbusinessname.com. Not only does this look professional, but it also shows that you are a "real" company with a dedicated communications system. For example, an email address of [email protected] appears much more reputable then emails like [email protected].
The first thing you will need to do is register a domain name for your business with an approved domain registrar. One of the most affordable and reputable in the marketplace is GoDaddy.com.
Once you visit the site you will need to conduct a domain search to see if a .COM for your company name is available. I strongly suggest that you obtain a .COM because it adds another layer of credibility and professionalism to your business as opposed to a .Biz or .Net name.
If your company name is not available as a .COM then consider searching for a .COM with the extension of your structure title as well. For example, ABC Company.com may not be available but try ABC CompanyLLC.com as an alternative.
Be prepared to supply the following information when setting up your business email account:
Name, company name, address and phone number
Administrative contact information
Technical contact information
Domain Name System (DNS) server details
The DNS server is usually provided by the web hosting company that you use to host your website. If you don't have a website you can have your domain name parked on Go Daddy's servers until you set one up. This can be done afterwards and you can always contact tech support for additional help.
Once you register a domain name you will be provided an email credit which allows you to set up a business email account associated with your new domain name. When you select an email address make its simple because you will be supplying this information on all your company documents, applications, registrations and so on.
If you decide to establish multiple email addresses like [email protected], [email protected] and [email protected] then make sure you use only one of these on all things related to the business credit building process.
It's essential that you understand how lenders and credit providers assess the creditworthiness of a business. Even though it may seem like such a minor detail, having a dedicated business email account does play a role in the decision making process. Small details like this that get overlooked can cause problems for you later on.
Ready to start building business credit? Become a member of my Business Credit Insiders Circle and gain access to a proven step-by-step business credit building system. A system that provides you access to vendor lines of credit, fleet cards, business credit cards with and without a PG, funding sources and lenders that report to all the major business credit bureaus. Submit your name and email below for details and receive a free business credit building audio seminar ($597 value) =>

To Your Success In Business and in Life!
Did This Blog Help You? If so, I would greatly appreciate if you like and shared this on Facebook and Twitter.
About the author
Marco Carbajo is a business credit expert, author, speaker, and founder of the Business Credit Insiders Circle. He is a business credit blogger for Dun and Bradstreet Credibility Corp, the SBA.gov Community, About.com and All Business.com. His articles and blog; Business Credit Blogger.com, have been featured in 'Fox Small Business','American Express Small Business', 'Business Week', 'The Washington Post', 'The New York Times', 'The San Francisco Tribune','Alltop', and 'Entrepreneur Connect'.