How to Accept Mobile Payments
Does your business accept mobile credit card payments?
Let's face it you'll never miss a sale once you have the ability to take credit card payments anytime and anywhere. It's clear that mobile credit card processing is an idea whose time has come.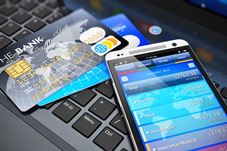 The ability to accept payments wherever your business goes via your mobile device makes getting paid that much easier. It's so easy that merchants are expected to process $260 billion in transactions on mobile tools next year alone!
Like all great ideas, once it gains popularity everyone starts jumping on the bandwagon. Unfortunately, the bandwagon effect does have its drawbacks when it comes to choosing the best mobile credit card processing solution. Too many business owners have a tendency to go for fast, simple and easy without doing enough due diligence.

Many mobile credit card processing companies are "aggregators"– which is totally different compared to having your own merchant account. Payment aggregators allow a business like yours to piggyback on their merchant account. Using a payment aggregator like Square® enables your business to accept credit and debit card payments without having a merchant account.
So what's wrong with using a payment aggregator?
Using one is not a bad thing for your business but it comes at a price and you have to decide if it's a price your willing to pay. There are certain risks and potential challenges you may face when using a payment aggregator.
Mobile Credit Card Payments
Here are some key points for you to consider if you want to really know how to accept mobile payments:
Is it less expensive than a typical merchant account?
It depends on the amount of transactions you process, the standard ticket price and whether you are typing in purchases or swiping the card. If you key in transactions expect to pay a lot more in fees with a payment aggregator. They may also place a hold on some of those keyed transactions for a month or more before transferring the money to your account.
Does a payment aggregator deposit my money like a merchant account?
No, a payment aggregator like Square® deposits money into its own account first. Only until they decide to release funds will the money be deposited into your bank account.
What laws protect me if I use a payment aggregator?
Regrettably, only merchant accounts run under government and state banking laws and rules. Payment aggregators are not subject to these laws so they basically can set their own rules.
Can accepting mobile credit card payments build my business credit?
Glad you asked. While credit card processing companies, payment aggregators, and merchant banks do not report to the business credit reporting agencies there is ONE registered ISO of Fifth Third Bank that does. It's the best credit card processing company that I recommend because it does exactly what a credit card processing company should do for small businesses. It offers o% processing fees, free equipment, 24 hour deposits, 24/7/365 live customer support and business credit reporting.
Finally, a credit card processing company that builds your business credit! Whether it's mobile processing, wireless terminals, E-Commerce, etc.; you can get the tools you need to succeed in business today. By accepting mobile payments with the right credit card processor you can never miss a sale and have the confidence in knowing that you're building the creditworthiness of your business too.
Ready to accept mobile credit card processing that builds your business credit? Submit your information below and a merchant specialist will contact you within 24 hours. Plus receive my FREE Business Credit Insiders Circle Newsletter and Audio Seminar. ($597 value)=>

To Your Success In Business and in Life!
Did This Blog Help You? If so, I would greatly appreciate if you like and shared this on Facebook.
About the author
Marco Carbajo is a business credit expert, author, speaker, and founder of the Business Credit Insiders Circle. He is a business credit blogger for Dun and Bradstreet Credibility Corp, the SBA.gov Community, About.com and All Business.com. His articles and blog; Business Credit Blogger.com, have been featured in 'Fox Small Business','American Express Small Business', 'Business Week', 'The Washington Post', 'The New York Times', 'The San Francisco Tribune','Alltop', and 'Entrepreneur Connect'.