How To Check Your Business Credit Score
What does your business credit score say about your company's overall creditworthiness?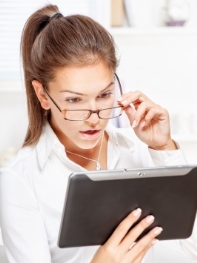 Did you know positive business credit scores and ratings are a company's ticket to favorable interest rates, flexible payment terms, higher credit limits, and financing opportunities?
In this post I'm going to show you how to check your business credit score and ratings with each of the three major business credit reporting agencies.
How would you like to know exactly how lenders will view your company's financial health and how much risk it might pose?
Knowing your business credit scores before applying for credit or financing is simply smart business.
Don't make the mistake of blindly applying for credit; know where your business stands.

Dun & Bradstreet Credibility Corp business credit score
CreditSignal™ is the first and only product on the market that provides businesses with free access to changes in their D&B® credit scores and ratings. Now keep in mind you must have an existing D-U-N-S Number to sign up for this.
First, you will need to go to the Dun & Bradstreet Credibility Corp.
page and enter your business name, phone or DUNS number in the search box. Next, check the 'My Business' option and select your state in the drop down option then click the search tab.
Locate your business from the list and click 'Go'. Next, click on the 'Get It Now For FREE' tab.
Enter your first name and last name and select a password to register.
Once you have successfully registered your login details will be sent to your email and you can access your free report and scores.
Click Here to View Sample Report
Corporate Experian business credit score
If you want to know how to check your Corporate Experian business credit score go to the Smart Business Reports web site and enter your company name, city, and state in the search box. Next, check the 'my company' option and click the search tab.
Verify your company name and address located on the top left of the screen. If your company is listed then choose from one of the listed products.
For your business credit score I would suggest the CreditScore℠ Report. This is a single basic credit score report for your business and costs only $34.95. In the report you receive payment summary information, UCC and public record counts, key facts and registration details. It also includes your credit score, credit score factors, credit summary and standard business credit report.
Click Here to View Sample Report
Small Business Equifax business credit score
If you want to know how to check your Equifax Small Business Credit Report and Score
you will need to enter your business name, city, state and zip code in the search box and then click the search tab.
The Equifax Small Business Credit report costs $99.95 and includes the following information:
Two Scores – Equifax Credit Risk Score™ and Equifax Business Failure Score™
Bureau Summary – summary of your company's financial and non-financial accounts
Payment trend and Payment Index – a 12 month payment trend and comparison
Click Here to View Sample Report
Keep in mind a business may not have a business credit score if there are not enough trade lines reporting on its file. For example, in order to generate a Paydex® Score a company requires a minimum of four trade lines.
Now that you know how to check your business credit scores you can have the full confidence in knowing where your company stands when deciding to search for credit and financing.
Ready to build your business credit reports and scores? Become a member of my Business Credit Insiders Circle and gain access to a proven step-by-step business credit building system. A system that provides you access to vendor lines of credit, fleet cards, business credit cards with and without a PG, funding sources and lenders that report to all the major business credit bureaus. Submit your name and email below for details and receive a free business credit building audio seminar ($597 value) =>

To Your Success In Business and in Life!
Did This Blog Help You? If so, I would greatly appreciate if you like and shared this on Facebook.
About the author
Marco Carbajo is a business credit expert, author, speaker, and founder of the Business Credit Insiders Circle. He is a business credit blogger for Dun and Bradstreet Credibility Corp, the SBA.gov Community, About.com and All Business.com. His articles and blog; Business Credit Blogger.com,  have been featured in 'Fox Small Business','American Express Small Business', 'Business Week', 'The Washington Post', 'The New York Times', 'The San Francisco Tribune','Alltop', and 'Entrepreneur Connect'.
Image courtesy of FreeDigitalPhotos.net