Easiest Credit Card To Get
Looking to get your credit back on the right track?
Not sure if you can even get approved for a secured credit card?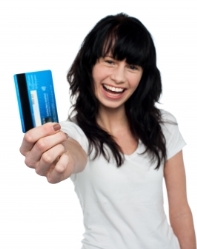 Let's face it, trying to recover and rebuild your credit after going through a financial rough patch can be stressful and frustrating especially if you can't even get a secured credit card.
You may have had to declare bankruptcy; went through repossession; experienced extreme late payments, collections, judgments; a foreclosure; or the dreadful tax lien, no matter what it is you can recover and get new credit.
In this post I'm going to share with you the easiest credit card to get if you had bad credit.
Now you've probably heard that you should get a secured credit card right?
Well, I hate to break it to you but just because you put down a security deposit for a credit card does not guarantee that you will get approved.

Even though every web site, article or forum talks about getting secured credit cards to rebuild your credit, little if anyone talks about the easiest credit card to get approved for if you have bad credit.
Credit card issuers such as Capital One do offer a secured credit card but it's not an easy card to get approved for. Believe it or not, even after putting a security deposit of up to $200 one can still get declined. But in my opinion with a 22.9% APR I wouldn't suggest applying for that secured card in the first place.
Now I'm sure we can agree that the primary step to credit rehabilitation is to develop new credit. But if applying for a secured credit card does not guarantee an approval what does?
In my opinion the easiest credit card to get even if you have bad credit is the OpenSky® Secured Visa® Credit Card. This card offers exactly what one would need, including a low deposit and reporting to all three major credit reporting agencies, oh did I forget to mention its stellar approval rate?
Not too long ago I wrote a review about the OpenSky® Visa Secured® Credit Card which you should take a look at so you can decide if this card is a good fit for you.
Not only is this the easiest credit card to get but more importantly the card is issued by a mainstream lending institution, Capital Bank– not a high-risk loan provider. Now remember, opening a secured credit card, using the card for purchases, and paying your statements on time will build positive payment history but you still need to address your credit reports.
Don't ignore or think that nothing can be done concerning your past adverse credit history– because there is. You can always repair your credit; the Fair Credit Reporting Act safeguards your right to do so.
Bear in mind, it does not have to take a very long time to put your credit troubles behind you. As soon as you start establishing a brand-new positive payment record and repair your credit reports, you can restore your good credit ratings and scores much sooner than you think.
Look to repair, restore and reclaim your excellent credit scores? Submit your name and email below to receive my FREE course '7 Steps To Superior Credit' ($497 value) =>

To Your Success In Business and in Life!
Did This Blog Help You? If so, I would greatly appreciate if you like and shared this on Facebook.
About the author
Marco Carbajo is a business credit expert, author, speaker, and founder of the Business Credit Insiders Circle. He is a business credit blogger for Dun and Bradstreet Credibility Corp, the SBA.gov Community, All Business.com and About.com.His articles and blog; Business Credit Blogger.com, have been featured in 'American Express Small Business', 'Business Week', 'The Washington Post', 'The San Francisco Tribune','Alltop', and 'Entrepreneur Connect'.
Image courtesy of FreeDigitalPhotos.net