OpenSky® Secured Visa® Credit Card Reviews
Having a hard time finding the best secured credit card?
While there's no shortage of credit card review sites for you to look at, it can be a difficult task filtering through all the credit jargon and really getting to the meat and potatoes of what makes a good secured credit card.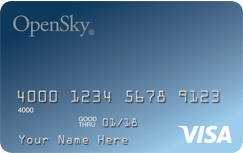 In this post I will review the OpenSky® Secured Visa® credit card and show you a side by side comparison to other leading secured cards in the marketplace.
I really like this card for a variety of reasons and after reading this post I'm sure you'll have a much better idea of what specific things you should look for in a secured credit card.

Remember, it's important that you focus on rebuilding your credit by establishing positive payment history. Since this card is secured you will need to supply a security deposit of $200 or higher depending on what credit limit you want to set for your card.
OpenSky® Secured Visa® Credit Card Review
Here is a breakdown of all the things I like about this particular card:
Credit Line $200-$3,000 – This makes it easy to start reestablishing your credit even if funds are limited. With only a $200 minimum security deposit virtually anyone can get started.
No checking account required – It can be difficult to obtain a checking account if you have a negative Chex systems report so having a no checking account requirement is another hurdle you don't have to go through.
No application fee – To get an OpenSky® Secured Visa® Credit Card all you need is your security deposit. While the majority of all major secured credit cards do not have any form of application fee there are some that do so this is a plus.
No monthly service fee –Open Sky® Visa® has no monthly fees which is another factor you should always be aware of. Don't ever open one of those online store cards that promise a $5,000 credit limit but only allow you to shop at their online store plus charge you a monthly fee.
Purchase APR of 18.39% variable – Compared to other major secured credit cards the OpenSky® Secured Visa® Card reviews pretty favorably. Check out this comparison chart:                                                                 (click image to enlarge)
Annual Fee of $35 – This card carries the lowest annual fee in the market with others costing as much as $39 per year.
4 Ways to Fund your Deposit – I like the options you have to fund your security deposit. You can either decide to use your checking account via ACH (takes 5 business days to clear) or Wire Transfer or Western Union or simply mail a printed application with a check or money order.
Reports to all three major credit reporting agencies – This is crucial for rebuilding your credit and raising your FICO® scores.
Works everywhere Visa® is accepted – It's simply a matter of common sense and convenience to use a credit card with the Visa® or MasterCard® logo.
One last thing I forgot to mention that I like about this card is you can have it in your hands in as little as 4 business days with rush service or 7-10 days with standard delivery.
*The OpenSky® Secured Visa® credit card is issued by Capital Bank, a nationally chartered, FDIC-insured Bank that is headquartered in Rockville, Maryland.
Looking for other ways to repair, rebuild and reclaim your excellent credit scores? Submit your name and email below to receive my FREE course '7 Steps To Superior Credit' ($497 value) =>

To Your Success In Business and in Life!
Did This Blog Help You? If so, I would greatly appreciate if you like and shared this on Facebook.
About the author
Marco Carbajo is a business credit expert, author, speaker, and founder of the Business Credit Insiders Circle. He is a business credit blogger for Dun and Bradstreet Credibility Corp, the SBA.gov Community, and All Business.com .His articles and blog; Business Credit Blogger.com, have been featured in 'American Express Small Business', 'Business Week', 'The Washington Post', 'The San Francisco Tribune','Alltop', and 'Entrepreneur Connect'.