Credit Union for Military
If you are in the Military, a veteran or spouse thinking about starting a business or currently own a business, consider joining a credit union for Military entrepreneurs to service your company's banking needs.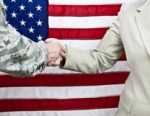 A Military credit union offers tremendous benefits for small business owners and because they are member-owned, they always act in your best interest. It is simply smart business to join one if you are eligible.

One credit union, Navy Federal, has been serving the military and their families for over 75 years with over 3 million members strong.
The good news is once you are a member, you are always a member. You can leave the Military, change employers, move, retire, and get married— and never have to leave Navy Federal.
From a business credit perspective I love the fact that their Navy Federal Visa® Business Credit Card does not report to your personal credit reports.
With the majority of business credit cards, your personal credit scores can drop anywhere from 20-50 points overnight when you draw on your card's credit limit.
When you draw from cards like this and the ones we offer in our Business Credit Insiders Circle, it does not report to your personal credit reports. As a result your personal debt/credit ratios are unaffected, thereby sheltering your personal credit for personal necessities such as auto loans, mortgages, student loans, and personal credit cards.
Keep in mind to qualify for this card they pull a personal Transunion report but no business documents or tax returns are needed unless you request more than 10K in credit.
Here is a breakdown of the business services NFCU credit union for Military and Veterans offers its members.
Business Checking & Savings
Three different accounts (Business Checking, Business Plus Checking, Premium Business Checking)
Variety of dividend-earnings savings products—Money Market Savings Accounts (MMSAs), Jumbo MMSAs and Certificates
Dividends earned daily
No or low monthly maintenance fees
Scan Deposits service
Business Loans (Secured and Unsecured Term Loans)
Inventory financing
Equipment purchases
Leasehold improvements
Finance—or even refinance—your investment properties
SBA Loans offered for start-up and/or less tenured businesses
Navy Federal Visa® Business Card
No Annual Fees
Annual Percentage Rate as low as prime + 5.9%
Rewards Points available by enrolling in Visa Extras
VISS (summarizes your company's card purchases)
Merchant Card Processing
Fair pricing
Easy-to-read monthly processing statements that you will understand
Dedicated customer service and support
In addition, NFCU offers commercial real estate financing and retirement & insurance plans for yourself and your employees.
You're eligible to join this credit union for Military entrepreneurs if you fall under any of these categories:
All Department of Defense (DoD) uniformed personnel
All Department of Defense Reservists
All Army and Air National Guard Personnel
All Delayed Entry Program (DEP) Personnel
All DoD Officer Candidate programs
U.S. government employees assigned to DoD installations (including Coast Guard)
All DoD civilian employees
DoD contractors assigned to U.S. Government installations
Family Members—including grandparents, parents, spouses, siblings, grandchildren, children (including adopted and stepchildren) and household members
Once your family members have joined, they can extend the membership opportunity to their family members, too.
If you own a small start-up or a thriving company, NFCU is a credit union for military entrepreneurs that can help you guide your business every step of the way. With your very own Business Account Officer, you'll have a trusted partner who's looking out for your best interests. To become a member of NAFCU contact a business account officer in your area at 877-418-1462.
My respect, appreciation, and prayers go out to all the members of our Military and their families. We thank you for your service, dedication, and sacrifice for our country.
Looking to build business credit for a start-up or existing business? Become a member of my Business Credit Insiders Circle and gain access to a proven step-by-step business credit building system. A system that provides you access to vendor lines of credit, fleet cards, business credit cards with and without a PG, funding sources and lenders that report to all the major business credit bureaus. Submit your name and email below for details and receive a free business credit building audio seminar ($597 value) =>


Marco Carbajo is a business credit expert, author, speaker, and founder of the Business Credit Insiders Circle. He is a business credit blogger for AllBusiness, a subsidiary of Dun and Bradstreet and author of "Eight Steps to Ultimate Business Credit" and "How to Build Business Credit with No Personal Guarantee." His articles and blogs have also been featured in the SBA Community, American Express Small Business, Business Week, The Washington Post, The San Francisco Tribune, Scotsman Guide, Alltop, Entrepreneur Connect, and Active Rain.