Apply for a Business Credit Card
As a business owner I'm sure you would agree that maintaining accurate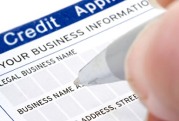 records of your business purchases and expenses are critical in running a successful company. Not to mention it can save your bookkeeper a lot of time from having to separate your personal and business accounts.

One of the ways you can separate and record your purchases is by using a small business credit card. With a company credit card you can receive the type of detailed reporting that makes it easy for you to budget, plan, and spot tax deductions.
However, with over 500 business credit cards to choose from it can be quite a challenge for you to decide which card is best. Not to mention all the various types of cards that each serves a unique purpose.
Before you apply for a business credit card here are seven important steps to follow:
Conduct a credit assessment – Be fully aware of where your credit stands on a personal and company level. Start by obtaining copies of your personal and business credit reports with scores. Remember, you are entitled to one free report per year with the major consumer credit agencies.
Determine which type of business credit card you need – You should understand the primary functions of the card you are applying for including its limitations. Whether it's a business debit card, prepaid business credit card, unsecured/secured corporate credit card, charge card, fleet credit card, or merchant card make sure you select the one that best fits the needs of your business.
Read the fine print – Just because a card issuer offers all kinds of special perks and rewards doesn't mean it's necessarily the best card. Always read the fine print so you completely understand the terms and conditions and fees associated with the card.
Look out for teaser rates and special offers – While offers like a no-interest promo are a heck of a deal to have the ability to borrow money interest-free most of them come with strings attached. Make sure you understand what conditions must be met and how long your teaser rate stays in effect.
Apply for a business credit card that builds your company's credit -To protect your personal credit you should apply for cards that report your payment experience to your company's credit files.
Avoid supplying a personal guarantee if possible – A small segment of card issuers will extend credit without a personal guarantee if your business has established strong credit ratings or has substantial revenues.
Do not apply for too many cards – Be selective on which cards to apply for because excessive inquiries can raise a red flag with creditors as well as negatively impact your ratings.
On a final note it's important to realize that even though business credit cards are not covered under the new CARD Act certain issuers are extending the CARD Act protections to its business credit card holders. This is just another factor to consider when applying for a corporate credit card for your business.
Don't make the mistake of putting your personal credit and assets at risk when it comes to running your business. Apply for a business credit card so you can start establishing a creditworthy company.
Ready to start obtaining business credit? Become a member of my Business Credit Insiders Circle and gain access to a proven step-by-step business credit building system. A system that provides you access to vendor lines of credit, fleet cards, business credit cards with and without a PG, funding sources and lenders that report to all the major business credit bureaus. Submit your name and email below for details and receive a free audio seminar ($597 value) =>

About the author
Marco Carbajo is a business credit expert, author, speaker, and founder of the Business Credit Insiders Circle. He is a business credit blogger for AllBusiness, a subsidiary of Dun and Bradstreet and author of "Eight Steps to Ultimate Business Credit" and "How to Build Business Credit with No Personal Guarantee." His articles and blogs have also been featured in American Express Small Business, Business Week, The Washington Post, The San Francisco Tribune, Scotsman Guide, Alltop, Entrepreneur Connect, and Active Rain.