Unsecured Credit Card For Bad Credit
Is bad credit holding you back?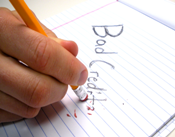 Are you tired of getting turned down every time you apply for credit cards?
Even though you can easily start rebuilding and repairing your credit with a secured credit card I'm sure you would much rather start with an unsecured credit card instead.

Now don't buy into those catchy advertisements or pre approved offers you get in the mail because no matter what you read it all boils down to your credit scores in order to get approved.
If your scores are in the 500s or low 600s then you should be very cautious when applying for new credit. You definitely want to avoid any excessive credit report inquiries because it will not only hurt your scores but also raise a red flag with credit card issuers.
The bottom line is the more inquiries you have especially in a short period of time the less likely you will be able to get approved.
So to save you some time and frustration you should consider my '7 Steps to Superior Credit Course' as it provides a step-by-step plan to raise your credit scores so you can qualify for unsecured credit cards with much more favorable interest rates.
What's most unique application process is different from all the other credit card companies.
You do not have to worry about a credit check and that's one less inquiry to worry about on your credit reports.
Here's how the card application process works:
Complete the secure application form and receive up to $3,500 in available store credit.
Next, use your credit to purchase any of the various products listed on their web site.
Pay your bill on time and watch your credit history improve over time.
Now keep in mind you can always request an increase in your credit limit after several months of on time payment history.
Here are some benefits of using unsecured credit cards for bad credit risks:

No Credit Check
Rebuild credit or establish credit with automatic reporting to all major credit bureaus
Low variable APR
Online Application process
What I like best about 1st Platinum Plus is simply the fact that they do not charge outrageous fees and interest rates to high risk individuals.
You may have heard about First Premier Bank which once offered a credit card with a 59.9% interest rate and a $100 annual fee. Can you believe that this card typically came with a credit limit of about $300?
Would you apply for a card like that?
Believe it or not First Premier Bank had over 300,000 active customers using this card as of 2011 and in February it removed the card offering according to CNN Money.
On a final note if you decide to obtain an unsecured credit card with bad credit it's important for you to realize that there will be a trade off. Because you are a high risk many issuers will impose higher interest rates and additional fees but with issuers like 1st Platinum this doesn't have to be the case.
What other cards have you had a positive or negative experience with?
Looking to rebuild your personal credit? Become a member of my Business Credit Insiders Circle and gain access to a proven step-by-step business credit building system. A system that provides you access to personal lines of credit, vendor lines of credit, fleet cards, business credit cards with and without a PG, funding sources and lenders that report to all the major business credit bureaus. Submit your name and email below for details and receive a free audio seminar ($597 value) =>

About the author
Marco Carbajo is a business credit expert, author, speaker, and founder of the Business Credit Insiders Circle. He is a business credit blogger for AllBusiness, a subsidiary of Dun and Bradstreet and author of "Eight Steps to Ultimate Business Credit" and "How to Build Business Credit with No Personal Guarantee." His articles and blogs have also been featured in American Express Small Business, Business Week, The Washington Post, The San Francisco Tribune, Scotsman Guide, Alltop, Entrepreneur Connect, and Active Rain.