Dun and Bradstreet Credibility Corp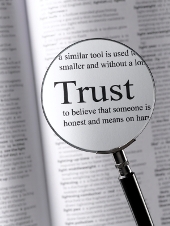 What makes a company appear trustworthy?
How can a business establish credibility in the marketplace?
While the textbook definition of credibility means the quality, capability, or power of being trusted nothing could be more important for a business to establish in today's economic environment.
These are questions that Dun and Bradstreet Credibility Corp. aims to address with its new approach to defining credibility in business.

I'm sure you have heard of the Dun and Bradstreet name since its been around for over 169 years providing data and insight on millions of businesses but what you may not be familiar with is the new firm that spun out of DNB called Dun and Bradstreet Credibility Corp.
This new firm headed by Jeffrey Stibel is planning to evolve the scope of credit into building credibility through its reputation management approach.
While I'm sure you'll agree that conducting business credit checks certainly covers one component of credibility what Jeffrey Stibel, Chairman and CEO of Dun and Bradstreet Credibility Corp. says "Credibility means things like having a web presence and making sure that the web and social ecosystem really resonates with your customer base."
Credibility in Business
Here are four ways the new DNB Credibility Corp. defines credibility:
Business Credit – A favorable business credit report and score improves your credibility in the eyes of lenders, potential partners, investors, and customers.  Your report clearly shows your company's financial projections, background information, risk level, and how it handles its payment obligations and debt loads.
Online Presence – More and more customers and prospective business partners will search for information about you and your company online than ever before. Standard web practices, security certificates, third party seals, and a social media presence are some of the key components that establish credibility online.
Expertise – Having well trained staff and competent customer support will build trust with customers. More importantly customers can share that positive experience with others socially which can further enhance your company's credibility.
Compliance – Staying up to date with required licensing, registrations, and regulatory agencies can make or break your company's reputation.
Let this serve as a helpful guide so you can be vigilant in monitoring, managing, and growing your credibility in business both offline and online.
In the world of business your reputation, credibility, and integrity are priceless and you should do everything possible to enhance and protect it.
What other ways do you establish credibility in your industry?
Looking to build your business credibility? Become a member of my Business Credit Insiders Circle and gain access to a proven step-by-step business credit building system. A system that provides you access to vendor lines of credit, fleet cards, business credit cards with and without a PG, funding sources and lenders that report to all the major business credit bureaus. Submit your name and email below for details and receive a free audio seminar ($597 value) =>

About the author
Marco Carbajo is a business credit expert, author, speaker, and founder of the Business Credit Insiders Circle. He is a business credit blogger for AllBusiness.com, a subsidiary of Dun and Bradstreet and author of "Eight Steps to Ultimate Business Credit" and "How to Build Business Credit with No Personal Guarantee." His articles and blogs have also been featured in American Express Small Business, Business Week, The Washington Post, The San Francisco Tribune, Scotsman Guide, Alltop, Entrepreneur Connect, and Active Rain.