New Line of Business Credit: Merchant Card
Imagine having access to cash for your business at any time without having to provide a personal credit check, personal guarantee or collateral to qualify for it?
What if this line of business credit had no fixed payments and can be accessed anywhere credit cards are accepted?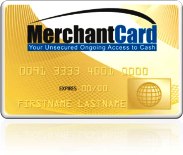 What if every positive payment you made with this line of credit reported to the major business credit bureaus like Dun and Bradstreet, Experian and Lexis Nexis?
Sound too good be true?
Well, it's not and I am happy to share with you one of the most innovative cash credit programs that I've seen in a long time.
If your business can benefit from an unsecured ongoing access to cash just like a line of business credit than a merchant card may be just what you've been hoping for.
Here's how it works:
The approval process is strictly based on your company's monthly sales volume not your personal credit. If you're a new business you can qualify for instant access of $1,000 while other cash availability lines range from $1,000 to $250,000 per location.
This is not a loan so you don't have to worry about fixed payments because the payback process is automatic and it's based on your company's future credit card sales.
Along with a merchant card, you will be setup with a merchant account to handle the payback process while allowing your business to accept credit cards from customers. 
Already have a merchant account?
No problem, your rates and fees will remain the same while your merchant card will give you the access to cash for your business anytime you need it.
Here are a few of the major reasons you should consider a merchant card:
No personal credit check
No collateral
Simple and automatic payback process
Reports to major business credit bureaus
Can be used at any location that accepts VISA®/MasterCard® or any ATM
Will not affect your ability to obtain loans or other credit cards
This program is a no brainer in my book and with a 95% approval rate there is really no reason not to have a merchant card at your disposal.
If you are striving to build a solid business credit rating without relying on your personal credit or personal guarantee than apply for your merchant card today.
Ready to apply for a merchant card for your business? Become a member of my Business Credit Insiders Circle and gain access to a proven step-by-step business credit building system. A system that provides you access to merchant cards, premium vendors, business credit cards, funding sources and lenders that report to all the major business credit bureaus. Submit your name and email below for details and receive a free audio seminar ($597 value) =>

About the author
Marco Carbajo is a business credit expert, author, speaker, and founder of the Business Credit Insiders Circle. A business credit builder system providing business credit with no personal guarantee. He is a business credit blogger for AllBusiness.com, a subsidiary of Dun and Bradstreet and author of "Eight Steps to Ultimate Business Credit" and "How to Build Business Credit with No Personal Guarantee." His articles and blogs have also been featured in American Express Small Business, Business Week, The Washington Post, The San Francisco Tribune, Scotsman Guide, Alltop, Entrepreneur Connect, and Active Rain.