Build Business Credit
Last week on Earth Day more and more individuals, corporations and governments made personal commitments towards creating a global green economy.
Did you know you can also build business credit for going green as well?
There are many 'Go Green' companies willing to extend credit to your business in an effort to help you become a green company. These credit lines give you access to various business and consumer products designated as eco friendly.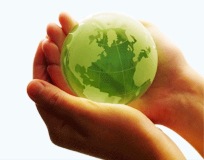 Each purchase made using your line of credit helps establish business credit because your payments are reported to the business credit bureaus.
One company takes it a step further by taking 10% of each of your business purchases and donating it to a "Green Organization."Now that's what I call supporting the environmental movement.
If you think going green will cost too much money then think again because in the long run it can save your business a bundle. For example, high-efficiency light bulbs will cost you 75% less than standard ones and last ten times longer.
In addition, more and more consumers prefer to do business with a company that's eco-friendly so going green should be an important part of your company's branding strategy.
Companies like Johnson Controls saw an increase in their sales due to its environmental efforts. By going green they were able to stand out in their industry which helped gain attention for its business resulting in increased revenues.
Before you apply be sure to have the following in order to qualify:
Minimum of two years in business
Business listed in 411
Business address
Business bank account
Keep in mind you can get approved if your business is less than two years old but your initial line of credit will be much less.
You won't have to supply a personal guarantee nor will your personal credit be checked but more than likely you will need to put 20-30% down on purchases and finance the rest.
One of the unique differences with some of these new business-friendly creditors offering green products is that they allow you to finance your purchases while the majority of vendors require that your invoices be paid in full usually within thirty or sixty days.
Once you get approved you can start by greening your office which will cut your energy costs. This is not only good for the environment but also for your company's bottom line.
This new age of green financing is truly an exciting opportunity for your company to go green, build small business credit, cut energy costs and support the environment.
As the green movement makes headway into the corporate world, and small businesses like yours are taking action I believe there will be an even greater demand for green credit financing for purchasing eco friendly products so more companies like yours can go green!
Are you ready to Go Green and apply for Green Credit Financing for your business? Become a member of my Business Credit Insiders Circle and gain access to a proven step by step business credit building system? A system that provides you access to green credit sources,vendor lines of credit, business credit cards, funding sources and lenders that report to all the major business credit bureaus. Submit your name and email below for details and receive a free audio seminar ($597 value) =>

Marco Carbajo is a business credit expert, author, speaker, and founder of the Business Credit Insiders Circle. A membership system helping business owners build small business credit. He is a weekly columnist for Dun & Bradstreet Small Business Solutions, a business credit blogger for All Business & American Express Small Business and author of "Eight Steps to Ultimate Business Credit" and "How to Build Business Credit with No Personal Guarantee." His articles and blogs have also been featured in Business Week, The Washington Post, The San Francisco Tribune, Scotsman Guide, Alltop, Entrepreneur Connect, and Active Rain.