Corporate Credit Card for Startups
Did you know a corporate credit card is a special type of credit card issued to a company with millions or more in annual revenue?
In fact, with a corporate credit card there is no personal guarantee, the liability for nonpayment falls solely on the business itself rather than an individual.
What about business credit cards?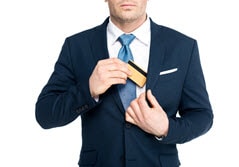 Business credit cards are designed for a business of any size, including small businesses or solo entrepreneurs. In almost all cases, business credit cards require a personal credit check and personal guarantee.
At the end of the day it's all about risk for the card issuing bank. The stronger a business, the less risk it imposes, which is why companies doing millions in revenue are not required to supply a personal guarantor on corporate credit cards.
Be sure to check out our post on Business Credit Cards vs Corporate Credit Cards for a complete breakdown.
I'm sure you're probably wondering if a corporate credit card is for companies doing millions in revenue how is it possible for a startup to qualify for one?
In today's post we're going to talk about how to get a corporate credit card as a startup or Ecommerce business without doing millions in revenue.
Not only that, but this corporate card issuer reports your monthly activity to two major business credit reporting agencies.
Click to continue …