Virtual Business Address and Phone Number
A virtual business address can solve some of the challenges that can happen when running your business from home.
For the majority of small businesses, working from home offers a great deal of advantages, from saving a great deal of money on operating costs to the convenience of working where you want, when you want and how you want.
Virtual offices create the opportunity for business owners to have the best of both worlds. First, you get a professional corporate image and address where you can schedule to meet customers at a professional corporate setting.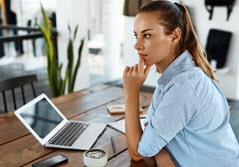 Second, you get the luxury of spending the majority of time running your business from the comfort of your home.
And finally, you save a great deal of money compared to leasing a physical office space. So, if you want to know how to get a virtual business address and phone number continue reading on.
What is a Virtual Office?
A virtual office is a turn-key solution that provides your business a professional corporate image but at a very low cost. You get the access and ability to use an actual physical office address as your company's address.
This isn't a PO box; this service can put your company on the directory of a building and help jump start your business.
You get all the same benefits as a traditional office space such as:
Corporate business mailing address
Dedicated business phone & fax number
Live receptionist that answers your phone
Company voice mail
Conference room, board room, etc.