Credit Reporting Overhaul
For the longest time the big three have been criticized for how they handle disputes from consumers. As you know the credit reporting agencies keep records on more that 200 million individuals and handle billions of pieces of data each year. Even though we are entitled to dispute any information we believe is incorrect on our credit reports the process can really be a nightmare for some.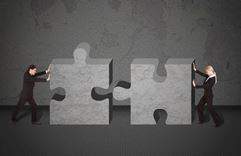 After three years since the investigation began, which was prompted by several New Yorkers complaining that they were having trouble correcting errors on their reports; a settlement has been reached.
The credit agencies' industry group said that Equifax, Transunion and Experian had been working with the New York attorney general and other state attorneys general to come up with a plan. On Monday, the New York State attorney general, Eric T. Schneiderman announced that his office had reached a settlement with the major credit agencies.

It was only a matter of time that the credit reporting agencies would agree to a complete overhaul of their dispute resolution process. For decades the dispute process has been largely automated and outsourced to thousands of workers overseas who are told to translate problems into a code that's fed into a computer. If a creditor verifies the information then no further investigation would take place.
Not anymore.
Automatic dispute rejections will no longer be tolerated and because of this settlement the credit agencies are required to have specially trained employees to review all dispute documentation. If a creditor says its information is correct, the credit agency must still look into it and resolve the dispute. "The settlement is a huge victory that will benefit consumers," said Chi Chi Wu, a lawyer at the National Consumer Law Center."
Under the agreement, unpaid medical bills will also be handled differently on credit reports. "Too many people are surprised to learn of medical billing problems only after having a bill sent to collection and being forced to deal with damaged credit," said Mark Rukavina, a consumer advocate and principal of Community Health Advisor.
Now all three credit reporting agencies will have to wait for 180 days before adding any medical-debt information to a consumer's credit report. This block of time allows consumers to clear up any credit issues and catch up with medical bills.
Even FICO® recognizes that bad medical debts may not be an accurate measure of a consumer's financial behavior when it comes to your FICO® Scores. In its latest credit score version FICO® Score 9 no longer weighs medical debts as heavily as in previous scoring models.
Also, when a medical debt is paid by an insurance company, regardless of how long it took to get paid, it must be removed from the credit report rather than stay on there for seven years. The settlement "is a good sign that the reporting agencies are finally willing to step up their game and respond to the needs of hardworking consumers and their families," Mr. Schneiderman wrote in an email statement.
Credit experts in the industry say this settlement marks the biggest reform in credit reporting since 2003. Most of these changes will be put into action over the next six to thirty-nine months. After years of growing pressure on Equifax, Transunion and Experian to provide more protection for consumers and greater accuracy, the time has finally come.
Until next time.
Does your personal and business credit need an overhaul? Become a member of my Business Credit Insiders Circle and gain access to a proven step-by-step business credit building system. A system that provides you access to credit resources, vendor lines of credit, fleet cards, business credit cards with and without a PG, funding sources and lenders that report to all the major business credit bureaus. Submit your name and email below for details and receive a free business credit building audio seminar ($597 value) =>

To Your Success In Business and in Life!
Did This Blog Help You? If so, I would greatly appreciate if you like and shared this on Facebook and Twitter.
About the author
Marco Carbajo is a business credit expert, author, speaker, and founder of the Business Credit Insiders Circle. He is a business credit blogger for Dun and Bradstreet Credibility Corp, the SBA.gov Community, About.com and All Business.com. His articles and blog; Business Credit Blogger.com,  have been featured in 'Fox Small Business','American Express Small Business', 'Business Week', 'The Washington Post', 'The New York Times', 'The San Francisco Tribune','Alltop', and 'Entrepreneur Connect'.