Business Best Practices Credit Cards
One of the challenges facing business owners in America today is the lack of business credit education. An area of particular interest is in the proper use of credit cards.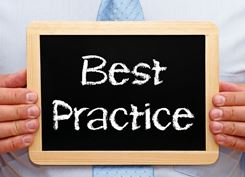 According to Tower Group's recent report, more than two-thirds of business owners use credit cards for business, but of those only about 40% are putting the charges on business credit cards. That leaves 60% of business owners putting themselves at risk for personal liability and placing their personal credit and personal assets at risk.
I developed this guide as a helpful tool for business owners like you who plan to or are using credit cards for your business, to provide insight into an ever changing industry, and show how these best practices can provide much greater risk management, record keeping, personal credit protection, cost savings, and credit capacity for your business.

Here is a business owner's best practices guide for using credit cards:
Best Practice #1 – Select Business Credit Cards
There are compelling reasons to use business credit cards as opposed to personal cards for business. Business credit cards not only ease the accounting process but also command higher credit limits, more flexible payment terms, and special rewards programs. The bottom line is keeping business finances separate from personal ones is a smart decision that can safeguard your financial record keeping.
Best Practice #2 – Select Business Credit Building Cards
Although there are over 500 business credit cards in the marketplace less than 100 reports to the business credit reporting agencies. It's crucial to choose business credit cards that share payment data with the business credit agencies. While some card issuers report to both personal and business credit agencies it's in your best interest to get business credit cards that report solely to your company's credit reports.
This allows your company to establish its own creditworthiness which ultimately reduces its credit risk. You should avoid using business credit cards that report to personal credit reports because these types of cards have a direct impact to your credit utilization which ultimately impacts your FICO® Scores.
Best Practice #3 – Determine Commercial Card Requirements
It's essential to consider what your company's current card needs are for purchasing, travel, and/or fleet. For example, while business credit cards with high credit limits are ideal for making daily and/or sizable purchases; corporate travel cards offer signup bonuses, special reward rates and other perks for travel. When it comes to fuel expenses you may want to consider a fleet fuel card. Fleet cards offer special advantages such as controls at the pump, rebates, discounts, in-network discounts, etc.
Best Practices #4 – Leverage Cards to Support Company Strategy
One of the most efficient and cost-effective methods for making purchases and payments is through the use of business credit cards. The key to leveraging these cards to build your company's creditworthiness is to develop a consistent and positive payment record along with favorable credit utilization ratios.
Doing so will contribute to establishing good business credit ratings and stronger relationships with your card issuers. This ultimately plays a role in future credit limit increases that may be offered by your existing card issuers.
With a wide range of business credit cards to choose from, each company should do its own research and choose the card that best suits the needs of the business. Let these best practices serve as a guide for your business credit education so you can maximize your company's funding potential.
Ready to start building business credit? Become a member of my Business Credit Insiders Circle and gain access to a proven step-by-step business credit building system. A system that provides you access to vendor lines of credit, fleet cards, business credit cards with and without a PG, funding sources and lenders that report to all the major business credit bureaus. Submit your name and email below for details and receive a free business credit building audio seminar ($597 value) =>

To Your Success In Business and in Life!
Did This Blog Help You? If so, I would greatly appreciate if you like and shared this on Facebook and Twitter.
About the author
Marco Carbajo is a business credit expert, author, speaker, and founder of the Business Credit Insiders Circle. He is a business credit blogger for Dun and Bradstreet Credibility Corp, the SBA.gov Community, About.com and All Business.com. His articles and blog; Business Credit Blogger.com,  have been featured in 'Fox Small Business','American Express Small Business', 'Business Week', 'The Washington Post', 'The New York Times', 'The San Francisco Tribune','Alltop', and 'Entrepreneur Connect'.