Free Business Credit Score
Are you keeping track of changes to your business scores and inquiries into your company's credit file?
Wouldn't you want to know how often your business credit file is being accessed?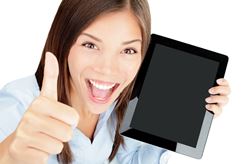 I'm sure getting access to a free business credit score from all three major business credit agencies will become a reality in the near future, but the next best thing is getting free access to changes to your business credit score and ratings.
Knowing about credit score changes and recent inquiries being made into your company's credit file can help you tremendously. For example, it can help you understand whether your scores have been impacted by certain business activities you may have taken recently. You can also track how many times your file is being accessed. Most importantly, you can anticipate how potential business partners or lenders would react to the changes in your business credit file.

The fact is it takes time and hard work to establish a favorable business credit rating; so you need to work equally as hard in monitoring, managing, and protecting it too. In order to accomplish this requires that you closely monitor your reports and be alerted to any changes as soon as possible.
Well, I have good news for you because now you can get free business credit score access and alerts to any changes in your scores and ratings absolutely free.
Dun & Bradstreet Credibility Corp's CreditSignal® is the first and only product on the market to provide businesses with free access to changes in their D&B® credit scores and ratings. This also includes changes to your Paydex® score. All that's required to take advantage of this free service is you must already have a D-U-N-S number.
Using a service such as CreditSignal® is a good first step to managing and monitoring your company's credit file with D&B. The fact is a well maintained business credit profile gives you leverage for getting better terms, increased credit limits, and the ability to secure additional financing. With all the new technology being introduced it's no surprise that Dun & Bradstreet Credibility Corp. also has a mobile app where you can monitor your business credit, anywhere, anytime, right from your mobile phone; it's called CreditReporter™.
When you register for CreditSignal® you get access to this mobile app as well. Now keep in mind, while CreditSignal® is a free business credit score notification service, it only indicates that your D&B scores and ratings have changed and alerts you how often your company's business credit file is being accessed. Here's a sample report of what to expect:
(Click on Image to Enlarge)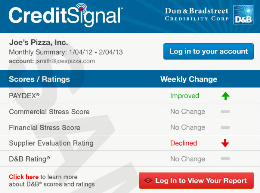 As you can see with CreditSignal®, you won't see detailed reporting on your report. In order to view your entire credit profile, actual D&B scores and ratings, requires that you enroll in either CreditMonitor™ or CreditBuilder™.
While both of these paid services include getting your D-U-N-S number in 5 days, the major difference is CreditBuilder™ allows you to add up to 4 credit references to your D&B credit file. These days, information about your business may be changing at a rapid pace – information other creditors, suppliers, businesses, and customers can easily access. With CreditSignal®, you never need to worry about these changes happening without you knowing about it.
Stay alert, and stay connected by taking advantage of this free business credit score access tool today.
Looking for more ways to build your business credit? Become a member of my Business Credit Insiders Circle and gain access to a proven step-by-step business credit building system. A system that provides you access to vendor lines of credit, fleet cards, business credit cards that ONLY report to the business credit agencies, funding sources and lenders that report to all the major business credit bureaus. Submit your name and email below for details and receive a free business credit building audio seminar ($597 value) =>
To Your Success In Business and in Life!
Did This Blog Help You? If so, I would greatly appreciate if you like and shared this on Facebook.
About the author
Marco Carbajo is a business credit expert, author, speaker, and founder of the Business Credit Insiders Circle. He is a business credit blogger for Dun and Bradstreet Credibility Corp, the SBA.gov Community, About.com and All Business.com. His articles and blog; Business Credit Blogger.com, have been featured in 'Fox Small Business','American Express Small Business', 'Business Week', 'The Washington Post', 'The New York Times', 'The San Francisco Tribune','Alltop', and 'Entrepreneur Connect'.