Cheapest Credit Card Processing
Are you looking for the cheapest credit card processor?
How would you like to save 25-50% off your existing processing fees?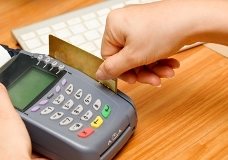 You've come to the right place to save money and put more of it back into your business.
In this post I will be covering all the key factors that you should look out for when shopping for the cheapest credit card processing for your business.

Let's face it, of all the demands of running a business, finding the best credit card processor can be a time consuming and confusing ordeal. But with that said doing your due diligence can go a long way.
Saving on credit card processing fees can add up to a significant amount of money; money you can put back into your business.
For example, a business that does about $1 million a year in gross sales of which 80% of that is via credit card processing. Just saving 1.5 points off processing fees can mean a savings of $12,000 a year!
Here are several key factors to consider when determining the cheapest credit card processing:
Processing fees – This of course is the main factor and can be a confusing one at best. Fees can range from 2.9% + .30 for each transaction and when you add up additional fees such as gateway fees, interchange fees, statement fees, etc. it can easily amount up to 5%.
The cheapest processing fees in the merchant services industry are 0% to .36%. These rates are offered by an established merchant services company that I personally recommend for saving money on processing fees while building your company's business credit reports.

Equipment – Credit card processing machines can cost a pretty penny if you're not careful. The prices can range anywhere from $300 and $800 each. Whether you are looking for mobile processing, e-commerce, etc. it can be costly but it doesn't have to be. A better option is to use a credit card processor that provides free set up and equipment.
Deposit timing – No matter how many bells and whistles or how fast you can get set up with a credit card processing company; deposit timing is what matters. From the moment you process a customer's credit card how fast do you want the money deposited into your business bank account?
While some credit card processors may take days to deposit your funds, one of the cheapest credit card processing companies I recommend deposit funds in 24 hours.
So where can you get the cheapest credit card processing?
The good news is there is a way you can get 0% to .36% credit card processing fees. The best merchant credit card services company that I recommend not only offers this cheap credit card processing rate but also reports your positive processing payment history to the major business credit reporting agencies.
How is this for cheap credit card processing?
0% – .36% processing fees
$0 Setup fees
$0 Equipment costs
$0 Monthly minimums
24 hour deposits
Business credit reporting
Insurance on better rates – if any competitor offers a better deal, they will match it, or pay you $100.
Now if you are already with an existing credit card processor at least take advantage of a free analysis of your current credit card processing statements.
They will show you how much money you can save if you decide to use their credit card processing instead. After the analysis you will realize this by far is the cheapest credit card processing service available.
One last thing, when I talk about cheap I am only referring to pricing of course. This company was established in 1998 and is a registered ISO with an A+ BBB rating. They give excellent customer service and have 24/7 operations support which is a must for business owners.
So are you ready to reduce your credit card processing rate to 0%? Submit your information below and a merchant specialist will contact you within 24 hours. Plus receive my FREE Business Credit Building seminar audio and newsletter ($597 value) =>

To Your Success In Business and in Life!
Did This Blog Help You? If so, I would greatly appreciate if you like and shared this on Facebook.
About the author
Marco Carbajo is a business credit expert, author, speaker, and founder of the Business Credit Insiders Circle. He is a business credit blogger for Dun and Bradstreet Credibility Corp, the SBA.gov Community, About.com and All Business.com. His articles and blog; Business Credit Blogger.com,  have been featured in 'Fox Small Business','American Express Small Business', 'Business Week', 'The Washington Post', 'The New York Times', 'The San Francisco Tribune','Alltop', and 'Entrepreneur Connect'.
Image courtesy of FreeDigitalPhotos.net