Major Credit Reporting Agencies
Got mistakes on your credit report?
Are you having a tough time correcting the errors on your credit reports?
You're not alone.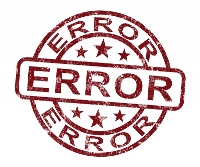 A recent government study into the major credit reporting agencies indicates that as many as 40 million consumers have errors on their credit reports.
That's 1 out of 5 American consumers!
What's even more alarming is 1 out of every 10 people have errors that negatively impact their credit scores.

Just think for a minute what this means on a national scale.
It means hundreds of thousands; maybe millions of people could be paying a higher interest rate on a mortgage, car payment, loan, credit card, insurance etc. than they should be.
With a 20% error rate in the major credit reporting industry what does this say about the credit scoring industry?
I don't want you to fall victim to credit reporting mistakes that can cost you time, money, emotional stress and hours of frustration.
In this post you'll find insightful information into the credit reporting industry, what to do if you have been unsuccessful in correcting errors on your reports and some additional resources.
Now let's take a look at the credit reporting industry as a whole.
In this '60 minutes' CBS News video an in depth look into the reliability of the credit reporting industry is exposed after an 8 year Federal Trade Commission study.

The reality is the credit reporting industry is a 4 billion dollar a year industry dominated by three major credit reporting agencies known as Equifax, Transunion and Experian.
While the Fair Credit Reporting Act was put in place to protect consumers from unfair credit reporting, it's evident in this video the major credit reporting agencies are not complying.
So what can you do?
You have several options at your disposal which include but are not limited to:
With more than 40 million mistakes on credit reports, it's vital that every consumer check and monitor their reports on a regular basis. You are entitled to one free report every year at annualcreditreport.com.
Although the credit reporting industry is severely flawed, it's important as a consumer to utilize whatever tools and resources are available in order to ensure your credit reports are accurate.
Ready to repair, restore and reclaim your excellent credit with the major credit reporting agencies? Submit your name and email below to receive my FREE course '7 Steps To Superior Credit' ($497 value) =>

To Your Success In Business and in Life!
Did This Blog Help You? If so, I would greatly appreciate if you like and shared this on Facebook.
About the author
Marco Carbajo is a business credit expert, author, speaker, and founder of the Business Credit Insiders Circle. He is a business credit blogger for Dun and Bradstreet Credibility Corp, the SBA.gov Community, and All Business.com .His articles and blog; Business Credit Blogger.com,  have been featured in 'American Express Small Business', 'Business Week', 'The Washington Post', 'The San Francisco Tribune', 'Alltop', and 'Entrepreneur Connect'. You can also find Marco on Google+.
Image courtesy of FreeDigitalPhotos.net