Bank Business Accounts
A bank business account is one of the most important financial tools you will use to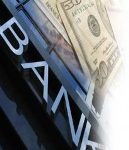 manage your company's finances. It helps you keep accurate records, prepare reports, make deposits, and separate your business banking from your personal banking.
Once you decide which type of bank will best serve the needs of your business whether it is a major commercial bank, credit union, or community bank, you should then focus on establishing a favorable bank rating.

Your company's bank rating is different from a business credit rating because the criteria are solely based on factors relating to your bank business  account. If your business has a positive bank rating it can result in greater borrowing capacity in the form of loans, lines of credit, and business credit cards.
The total amount of borrowing capacity your business can obtain from the banking system is known as bank credit. As a business owner it's essential to build and maintain strong ratings in all three main areas: personal, business, and banking.
Here are five ways to establish a favorable bank rating for your bank business accounts:
Maintain a healthy balance rating- This rating is your average minimum balance maintained in your business bank account over a three (3) month period. A $10,000 balance will rate as "Low 5″, $5,000 rates as "Mid 4″, $999 rates as "High 3″, and so on.  Your goal should be to maintain a minimum "Low 5" bank rating ($10,000) for at least 3 months. Unfortunately, without at least a "low 5″ rating, most banks will assume your business has little ability to repay on a loan or a line of credit.
Keep a positive bank rating cycle – Each cycle is based on your balance rating during the previous three month period. So before you decide to apply for credit keep a balance rating of "low 5" for the past three months.
Manage your account responsibly– Avoid writing non-sufficient funds (NSF) checks at all costs as it destroys bank ratings.  From this point forward, NSF checks are something you can't let happen. I would suggest that you add overdraft protection to your business bank accounts as soon as possible.
Show a positive cash flow– The cash coming in and going out of your company's bank account should reflect a positive free cash flow. Positive free cash flow is the amount of revenue left over after your company has paid all its expenses. When your account shows a positive cash flow it indicates that your business is generating more revenues than is used to run the company. It's important to also recognize that banks are motivated to lend to a business that has consistent deposits.
Establish bank history- A seasoned small business bank account shows stability and longevity in the eyes of lenders. Keeping a healthy and long standing relationship with a bank is crucial for your company.
In addition to a positive bank rating, your bank should act as a trusted advisory that can assist you in growing your business. You may want to consider working with a financial institution that specializes in providing banking services tailored to your specific industry.
Working with a lender that already understands your business makes it much easier to get a loan approved, compared with other lenders. This is because the majority of lenders have difficulty assessing the credit risk of most small businesses.
While profit and loss statements, tax returns, business credit and personal credit checks are common requirements in the lending process it is much easier for a lender to underwrite your business' financial risk when it truly understands and specializes in making loans to a company like yours.
Choose to open bank business accounts with small business-friendly banks and establish a solid bank rating so your company can qualify for the credit and financing it needs to further grow and expand.
Looking to build your business credit ratings? Become a member of my Business Credit Insiders Circle and gain access to a proven step-by-step business credit building system. A system that provides you access to vendor lines of credit, fleet cards, business credit cards with and without a PG, funding sources and lenders that report to all the major business credit bureaus. Submit your name and email below for details and receive a free audio seminar ($597 value) =>

About the author
Marco Carbajo is a business credit expert, author, speaker, and founder of the Business Credit Insiders Circle. He is a business credit blogger for AllBusiness, a subsidiary of Dun and Bradstreet and author of "Eight Steps to Ultimate Business Credit" and "How to Build Business Credit with No Personal Guarantee." His articles and blogs have also been featured in American Express Small Business, Business Week, The Washington Post, The San Francisco Tribune, Scotsman Guide, Alltop, Entrepreneur Connect, and Active Rain.