American Express Prepaid Card
If you think American Express caters only to the affluent think again.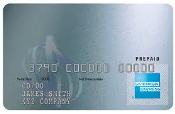 In an effort to serve a growing industry it's rolling out its first prepaid card for the general market.
I was a bit surprised myself but it's obvious that with the success of its Pass prepaid card that launched last year Amex got a taste of this market and now wants to take a much bigger bite.

Now this new card is not a debit card and it's not a credit card. It's a prepaid, re loadable card that you can use as a way to control spending.
While prepaid cards like Account Now and Black Diamond have its unique benefits like credit building the American Express Prepaid Card has a few benefits up its sleeve too.
One in particular is its reduced fees and compared to other prepaid cards it is definitely a plus.
Here are the only two fees you get charged when using this card:
First, to fund the card at retailers like Wal-Mart and Walgreens there is a $4.95 fee but if you use a checking or savings account you pay nothing.
Secondly, if you use the ATM for withdrawals you will pay $2 per withdrawal. But keep in mind you are allowed one free withdrawal per month.
That's it so make sure you do your due diligence when you select a prepaid card because you may find yourself being charged an activation fee and even monthly fees if you're not careful.
Here's how the American Express Prepaid Card works:

Fund the Card
You can add funds to your card 24/7, online or by phone, from a bank account, MoneyPak, or an American Express card.
Use the Card
The card can be used at any location that accepts American Express Cards either nationally or internationally. You can also use it to withdraw cash from ATMs but you can't use the card in casinos or for car rental reservations.
Reload the Card
You can reload the card as often as you want by using any of the funding options. At anytime you can also check your balance, transaction history, and set alerts via your online account that you set up.
By using a prepaid card you will find that it's a great way to control spending for yourself or the people you choose.
I would have like to have seen a credit building feature added to this card when using bill pay but overall the ease of use, trimmed out fees, and benefits makes this a card definitely worth having.
What are your thoughts on using a prepaid card?
Looking to rebuild your personal or business credit? Become a member of my Business Credit Insiders Circle and gain access to a proven step-by-step business credit building system. A system that provides you access to vendor lines of credit, fleet cards, business credit cards with and without a PG, funding sources and lenders that report to all the major business credit bureaus. Submit your name and email below for details and receive a free audio seminar ($597 value) =>

About the author
Marco Carbajo is a business credit expert, author, speaker, and founder of the Business Credit Insiders Circle. He is a business credit blogger for AllBusiness, a subsidiary of Dun and Bradstreet and author of "Eight Steps to Ultimate Business Credit" and "How to Build Business Credit with No Personal Guarantee." His articles and blogs have also been featured in American Express Small Business, Business Week, The Washington Post, The San Francisco Tribune, Scotsman Guide, Alltop, Entrepreneur Connect, and Active Rain.