Small Business Calculators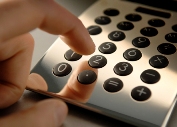 How much money do you need to start your business?
Should you get a loan, line of credit, or credit card?
How will you decide the effectiveness of your marketing campaigns?
These are just a few of the key questions that successful startups and growing companies ask so they can make confident financial decisions.

Are you prepared to answer questions like these? Do you have a system in place or tools that can help you get the answers you're looking for?
Not to worry because whether you're in the early stages of starting a business or growing one, there are small business calculators that can help you in evaluating different aspects of your business so you can get the answers you need quickly and efficiently.
Here are my top ten free calculators for entrepreneurs:
While there are many other calculations, formulas, and scenarios you can conduct with free calculators nothing will replace good common sense and insight. Use these calculators as tools not as replacements because the bottom line is your mind is the most powerful tool of all!
So add these small business calculators to your tool chest so you can get fast answers to the key questions that make a significant impact to the future and success of your business.
What other tools are you using in your tool chest?
Looking to obtain business credit for your company? Become a member of my Business Credit Insiders Circle and gain access to a proven step-by-step business credit building system. A system that provides you access to vendor lines of credit, fleet cards, business credit cards with and without a PG, funding sources and lenders that report to all the major business credit bureaus. Submit your name and email below for details and receive a free audio seminar ($597 value) =>

About the author
Marco Carbajo is a business credit expert, author, speaker, and founder of the Business Credit Insiders Circle. He is a business credit blogger for AllBusiness.com, a subsidiary of Dun and Bradstreet and author of "Eight Steps to Ultimate Business Credit" and "How to Build Business Credit with No Personal Guarantee." His articles and blogs have also been featured in American Express Small Business, Business Week, The Washington Post, The San Francisco Tribune, Scotsman Guide, Alltop, Entrepreneur Connect, and Active Rain.