Startup Business Equipment Leasing
Does your startup need equipment?
Not sure whether to obtain a lease or get a loan?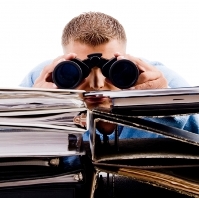 The good news is you'll get some answers in this post, more importantly I will compare the differences between equipment leasing and an equipment loan so you can decide which options is best for you.
Did you know with business equipment leasing you can get the software, computers, furniture, and other equipment you need to launch your business while conserving your company's cash?

Basically, an equipment lease is a rental arrangement where a leasing company (the lessor) maintains ownership of the equipment and the business (the lessee) uses it for its business operation.
Leasing is an effective way to conserve your cash as compared to other financing programs. If you were to use an equipment loan, a lending institution would require a 10-15% down payment, whereas with a lease you have 100% funding.
A lease term generally varies from 2 to 5 years while some terms can be as long as ten years depending on the equipment. In a nutshell a long term lease is mainly used for equipment that has a long useful life expectancy.
In addition to the business equipment you can lease for your startup, the lease itself can also include hardware, software, installation, maintenance, training, and so on.
Did you know startup business equipment leasing could minimize the tax burden on your business's finances?
It relies on how you structure the lease so you will need to consult with your tax specialist for details.
Here is a side by side comparison between an equipment lease and an equipment loan:
(Click Image to Enlarge)

While there are many various characteristics between a business equipment lease and an equipment loan the main difference is the four options you have at the end of a lease agreement.
At the end of an equipment lease term you have four choices:
Return the equipment.
Renew your lease.
Purchase the equipment for a little fee.
Buy the equipment at fair market value.
As you can see startup business equipment leasing allows your business to conserve capital, acquire the equipment it needs, plus prevent the equipment from becoming out of date since you can update or return the equipment at the end of the lease term.
Business equipment leasing has actually come to be a preferred option for startups in today's financial atmosphere. As a matter of fact, based on the Equipment Leasing Association, 8 out of 10 companies in the U.S. make a decision to lease business equipment.
Are you ready to apply for business equipment leasing for your startup or existing business? Submit your information below and a funding specialist will contact you within 24 hours. Plus receive my FREE Business Credit Seminar audio and newsletter ($597 value) =>

To Your Success In Business and in Life!
Did This Blog Help You? If so, I would greatly appreciate if you like and shared this on Facebook.
About the author
Marco Carbajo is a business credit expert, author, speaker, and founder of the Business Credit Insiders Circle. He is a business credit blogger for Dun and Bradstreet Credibility Corp, the SBA.gov Community, and All Business.com. His articles and blog; Business Credit Blogger.com, have been featured in 'Fox Small Business', 'American Express Small Business', 'Business Week', 'The Washington Post', 'The San Francisco Tribune','Alltop', and 'Entrepreneur Connect'. You can also find Marco on Google+.
Image courtesy of FreeDigitalPhotos.net