Corporate Debt Restructure
Is your business having trouble paying its current bills?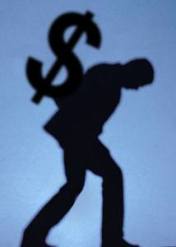 Are serious cash flow problems forcing you to put off business debts that you had planned to pay?
Whatever financial hardship your company is facing you don't have to be in jeopardy of losing your business because there is a viable alternative known as debt restructuring.

Even though the SBA reports that approximately 40,000 businesses a month close their doors or file for bankruptcy you don't have to be one of them!
With corporate debt restructuring you can have a solid and proven plan to get out of debt and prevent creditors from seizing your assets and putting you out of business.
This can be accomplished by negotiating new payment terms with creditors that they would be willing to accept on a budget your business can realistically afford. The whole concept behind restructuring is reducing the amount that you owe and/or extending the payment terms.
Now you can always restructure your corporate debts on your own but there are a few guidelines to consider:
First, if you can pay off your past due debts over the next several months then you can easily negotiate with your creditors on your own but it may take considerable time and energy.
However, if you believe that you will need more than a year to pay back your debts then you should definitely consider seeking professional help.
Secondly, if you are willing to handle the stress and aggravation dealing with creditors and collectors during this process then you better be prepared.
Here are some general steps to help guide you:
Step 1
Determine Which Corporate Debts Should Be Restructured – Each creditor you have will fall into one of three groups. The ones that should be restructured, the ones that could be restructured, and the ones you should not restructure.
Step 2
Determine Your Monthly Budget
You will need to establish an amount that your company can afford to pay toward these debts on a monthly basis. Once you determine the amount divide it into the amount of debt you are planning to restructure.
If the percentage you can pay is 8% or more then restructuring on your own is doable. But if it's less than 8% then you should seek professional help.
Step 3
Prove Your Company's Hardship
Create a hardship letter that explains your company's financial dilemma and more importantly provide details like numbers. Be personable and be prepared to provide proof if a creditor asks. You may need to furnish profit and loss statements or other documents before a creditor accepts your settlement offer.
Now don't expect creditors to settle quickly or easily and you may get placed for collection. Some creditors may settle while others will counter offer but don't settle so quickly either. You can always reject their offer and counter offer too!
Restructuring your corporate debt is not an easy task so consider free business counseling offered by America's Small Business Development Center (SBDC). Simply go to ASBDC-us.org. for more information.
Don't wait any longer to take action on your business debts, the worse your situation gets the harder it will be to resolve. Ultimately you will need to decide whether your situation is one that lends itself to going it alone or with professional help.
Need professional help with restructuring your corporate debt?
Looking to rebuild your corporate credit? Become a member of my Business Credit Insiders Circle and gain access to a proven step-by-step business credit building system. A system that provides you access to vendor lines of credit, fleet cards, business credit cards with and without a PG, funding sources and lenders that report to all the major business credit bureaus. Submit your name and email below for details and receive a free audio seminar ($597 value) =>

About the author
Marco Carbajo is a business credit expert, author, speaker, and founder of the Business Credit Insiders Circle. He is a business credit blogger for AllBusiness, a subsidiary of Dun and Bradstreet and author of "Eight Steps to Ultimate Business Credit" and "How to Build Business Credit with No Personal Guarantee." His articles and blogs have also been featured in American Express Small Business, Business Week, The Washington Post, The San Francisco Tribune, Scotsman Guide, Alltop, Entrepreneur Connect, and Active Rain.