Asset Based Lender
Raising the money you need for your business doesn't always have to be an uphill battle.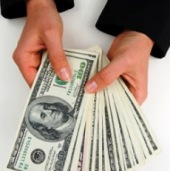 Do you know that you, a partner, or an investor in your business may have certain assets that can be used as collateral to obtain the funding you need?
Turning paper into cash is not a new strategy but it is definitely an option worth considering if you have access to the types paper that can be converted.

A lender that extends financing using these assets as security is known as an asset based lender. If the loan your business obtains is not repaid then the asset is taken by the lender for repayment.
For example, if Midway Games took out a line of credit secured by its Mortal Kombat franchise and failed to pay then the bank would own the Mortal Kombat franchise and could sell the rights to it in order to recover funds.
Here is a list of the typical types of paper that can convert to cash:
Financial Contracts – If you hold a contract that pays you a fixed amount of funds on a yearly basis to deliver your products then you can use it as a paper asset.
Line of Credit – Holding a line of credit from a bank or lender can be used as collateral to secure a loan.
Real Estate Cash Flow – If you have a lease on a piece of property that brings in positive cash flow each and every year.
Promissory Notes – Owning a signed document from a borrower that states that a specific amount of money will be paid to you over a set period of time.
Letter of Credit – A letter of credit from a financial institution can be used as collateral for a business loan.
Equity Line of Credit – You can use the equity you have in real estate or other valuable assets like equity ownership in your business.
Lawsuit Settlements – If you have a guaranteed payment of a set amount over a set period of time from a lawsuit settlement then this can be a great way to turn paper into cash.
Other typical assets you can convert to cash include inventory, accounts receivable, machinery, and equipment. Some other not so typical assets include trademarks or even intellectual property.
But before you decide to convert a paper you hold into cash take the following steps:
Determine how much funding you need
Select an asset based lender that specializes in your type of asset
Obtain the lender's loan application and review completely prior to applying
Contact the lender and ask any questions you have regarding the loan application process
Using an asset based lender to convert paper into cash is a good way for you to raise the money you need for your business.
Paper can be the answer when you need a business loan so take the time to review your assets and determine if you have paper that you can convert to cash.
What other types of paper do you believe can convert to cash?
Looking to convert your paper into cash? Become a member of my Business Credit Insiders Circle and gain access to a proven step-by-step business credit building system. A system that provides you access to asset based lenders, vendor lines of credit, fleet cards, business credit cards with and without a PG, funding sources and lenders that report to all the major business credit bureaus. Submit your name and email below for details and receive a free audio seminar ($597 value) =>

About the author
Marco Carbajo is a business credit expert, author, speaker, and founder of the Business Credit Insiders Circle. He is a business credit blogger for AllBusiness.com, a subsidiary of Dun and Bradstreet and author of "Eight Steps to Ultimate Business Credit" and "How to Build Business Credit with No Personal Guarantee." His articles and blogs have also been featured in American Express Small Business, Business Week, The Washington Post, The San Francisco Tribune, Scotsman Guide, Alltop, Entrepreneur Connect, and Active Rain.