Bootstrapping a Business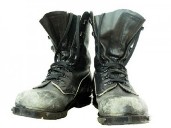 Startup businesses are often not afforded the luxury of a gracious venture capitalist. Thus comes the term bootstrapping a business, which refers to a business pulling itself up by its bootstraps. Often, the conditions of financing and lack of control is why many businesses choose to bootstrap. But the bigger question than why, is how your business bootstraps, and if is it right for you.

Each entrepreneur is distinctive, and each situation is unique. For instance, it may be easier for you to bootstrap a t-shirt company than a tech company. It is important for a business owner to understand the risks associated with taking on personal debt to grow and strengthen a dream.
Can You Work With What You Have?
The most difficult part of bootstrapping a business is learning to get by with you've already got. If your startup needs a $40,000 lathe machine to fabricate a specific type of wood, than you may look towards personal loans. But if you are starting a business that can get by on inexpensive equipment and low overhead, go for it! Bootstrapping is all about spending smart. If that means working from home and conducting business on a 6 year old laptop, by all means do it. There is something intimate about a business operated by an owner that bootstraps, they understand the internal processes and value each and every aspect of their business.
What Can You Leverage?
What can your business use with no costs right now to grow? Since you will primarily be regurgitating your profits, you will be amazed at the creativity needed to get your business off the ground. The adage, "A business shouldn't turn a profit until 5 years," should hold true. Think about leveraging zero cost creative marketing campaigns, both online and off.  If you don't need a professional to do it, then do it yourself! One of the hardest decisions with bootstrapping is, where do my potential customers find value? If you are investing over 50% of your business in non-revenue generating activities you should take a step back and think of how to make at least 80% costs tied to revenue.
Determining if bootstrapping a business is right for your company comes internally. Preparing for a few rough and tough years of thin budgets can really make you learn about your business. In contrast a business with too much money never has to learn what works and doesn't. So prepare to get intimate with your industry, your clients and your business. It's bootstrappin' time!
About our guest author
Matt Krautstrunk is an expert writer on payroll services based in San Diego, California. He writes extensively for an online resource that provides expert advice on purchasing and outsourcing decisions for small business owners and entrepreneurs such as document management software at Resource Nation.