Experian Triple Score Business Report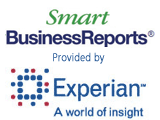 In a press release today Experian makes a strategic move by announcing the industry's first online triple score business report available from three business credit bureaus in a single report. 
It's no surprise that Experian is utilizing the first mover's advantage by offering a service like this for business owners which is similar to the tri-merge credit score reports that consumers have been able to purchase for years.
While the scores in the triple score business report are provided in a simple letter graded format from A through E with A being the lowest possible risk to E being the highest risk the report itself provides more of a broad assessment rather than a detailed one.
For example, the D&B score provided in the Triple Score Business Report by Experian is not your actual paydex score but rather a predictive score which measures the risk of severe delinquency over the next 12 months. 
Another letter graded score in the report is based on the Oxxford Business Report which derives its information and risk assessment from broader issues and data but not from the business itself.  Instead it reviews the industry risk, classification, and the potential for a business like yours to have delinquent payments within the next couple of years.
While I can appreciate the idea of making it easier for business owners and creditors alike to review business credit scores in a single and easy to read format I would like to have seen the triple score business report include Small Business Equifax plus the actual scores rather than Experian's letter graded system.
To take it a step further what I think would take the business credit reporting industry to another level would be introducing a tri merged business credit report with scores from all three major business credit bureaus – Corporate Experian, Equifax Small Business and Dun & Bradstreet.
Now that would be a report that business credit lenders and banks would take advantage of. This would also open up much more opportunities for businesses to obtain financing based on their company's creditworthiness rather than their personal credit scores.
Today, lenders have limited access to tools that provide a complete overall risk assessment for a business. Instead they pull a single business credit report for the company and pull a merged file report with scores on the business owner.
Unfortunately business lending decisions are driven more by consumer credit reports than business reports which should not be the case.
Doesn't it make sense that if lenders look to extend credit to you as a consumer they pull a tri merged credit report with all three scores to assess the risk. Why don't lenders have the same type of tri merged reports and scores to assess the creditworthiness of a business?
While Experian is first to move into the right direction with its triple credit score business report I think it needs to go back to the drawing board and introduce a tri merged business credit report with actual scores from the three main business credit bureaus.
The Triple Score Business Report is available for $29.95 and you can also order a complete Experian smart business report for $49.95.
To your Business Credit Success!
To access business credit insider secrets, premium vendors, leasing companies, business credit cards with no pg, and lenders that report to all the major business credit bureaus become a member of my Business Credit Insiders Circle. Submit your name and email below for details and receive a free audio seminar ($597 value) =>
Marco Carbajo is a business credit specialist, author, speaker, and founder of the Business Credit Insiders Circle. He is a corporate credit blogger for All Business.com, a subsidiary of Dun and Bradstreet and author of "Eight Steps to Ultimate Business Credit" and "How to Build Business Credit with No Personal Guarantee." His articles and blogs have also been featured in American Express Small Business, Business Week, The Washington Post, The San Francisco Tribune, Scotsman Guide, Alltop, Entrepreneur Connect, and Active Rain.